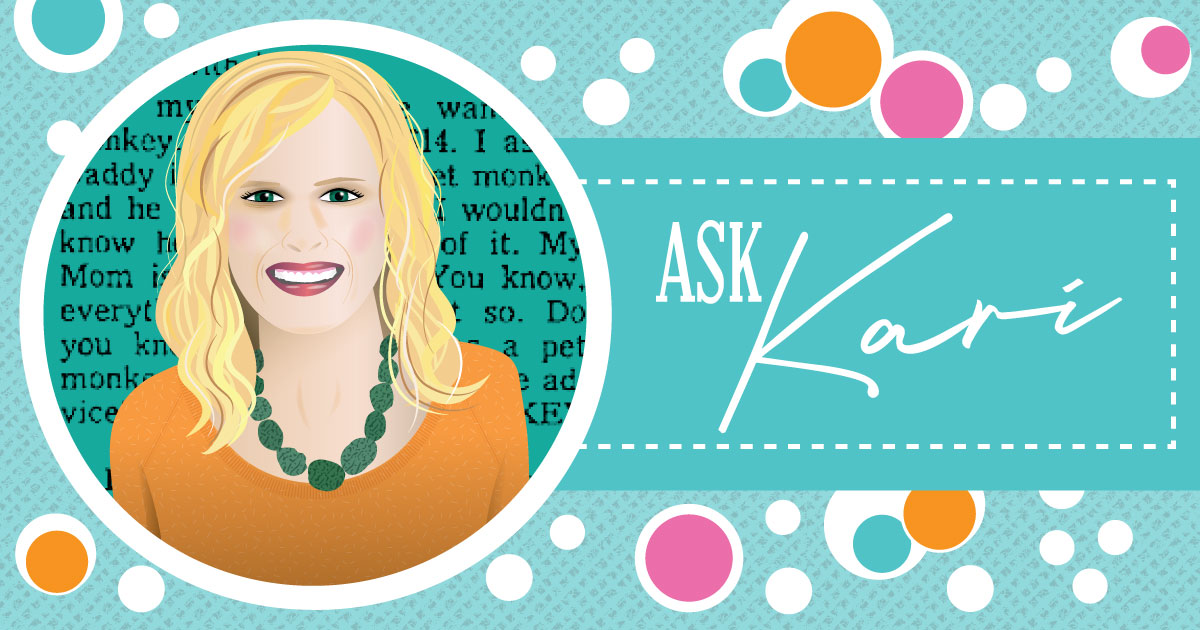 Dear Kari,
I am struggling with getting everything I need to do done each day. I have tried reading organizational books, business books, and parenting books to learn everything I need to know and have everything in our family schedule and noted as a to-do task on our list. Unfortunately, we have never completed the to-do list – ever. What are we doing wrong?
– Dazed and Disorganized
Dear Dazed and Disorganized,
Wow, you have done a lot of work to try and be more organized in your life. I wonder if it's too much? I recommend you write down your daily tasks and your weekly tasks and keep the list to less than 10 items. Only write down the necessary items you need to do each day or each week. Start by making that list, then have a family meeting and provide the list to everyone involved. Coordinate who will do each task on the list (for consistency, it's best to not keep changing the person responsible for each task). Start, there, get the process moving for the next three months, then you can add on one more big item (e.g., clean out the garage, clean out files, clean out bedroom closets). Good luck, stick with it, and you should reach your goal.
– Kari
Dear Kari,
I am soon to be a new college graduate, and I have ADHD. I have always struggled with getting organized for school, but now that I am heading into the workforce, I am scared my ADHD will keep me from being successful in the career I worked for in college. I am trained to be an accountant and want to join a successful firm. How can I be successful?
– Newbie to the Workforce
Dear Newbie to the Workforce,
First, congratulations on your upcoming graduation from college! Second, congratulations on working through your challenges with ADHD and successfully getting through our educational system that does not always make it easy for individuals with ADHD to succeed.
As you start to look for work, remind yourself of your past and current successes, modeling for yourself that you are smarter and better organized than you probably give yourself credit. You would not have achieved what you have already done without adapting your ADHD to your environment. You will do so again in the future in a new work environment.
To prepare yourself for success, I recommend the following:
Use lists, both daily and weekly.
Use a watch/timer to manage your activities/day.
Make a schedule for the work week and one for the weekend. These schedules can have flexibility in them (e.g. flipping a task for another task, moving downtime to work time).
Exercise to help manage your energy each day.
Additionally, I recommend you coordinate care with your primary care doctor and psychiatrist to ensure, if you need medication as an additional form of support for your ADHD, you also have that as a tool. Good luck, you will do great!
– Kari
Kari O'Neill, MSW, LICSW, is a licensed independent clinical social worker and the owner of Issaquah Highlands Counseling Group.
This column is for entertainment purposes only. If you are in crisis and in need of support, please contact the Crisis Clinic at 866-427-4747.
Do you have a question for Ask Kari?
Currently seeking questions related to: planning for the future.
Submit your question below and your question may appear (anonymously) in Kari's August column.