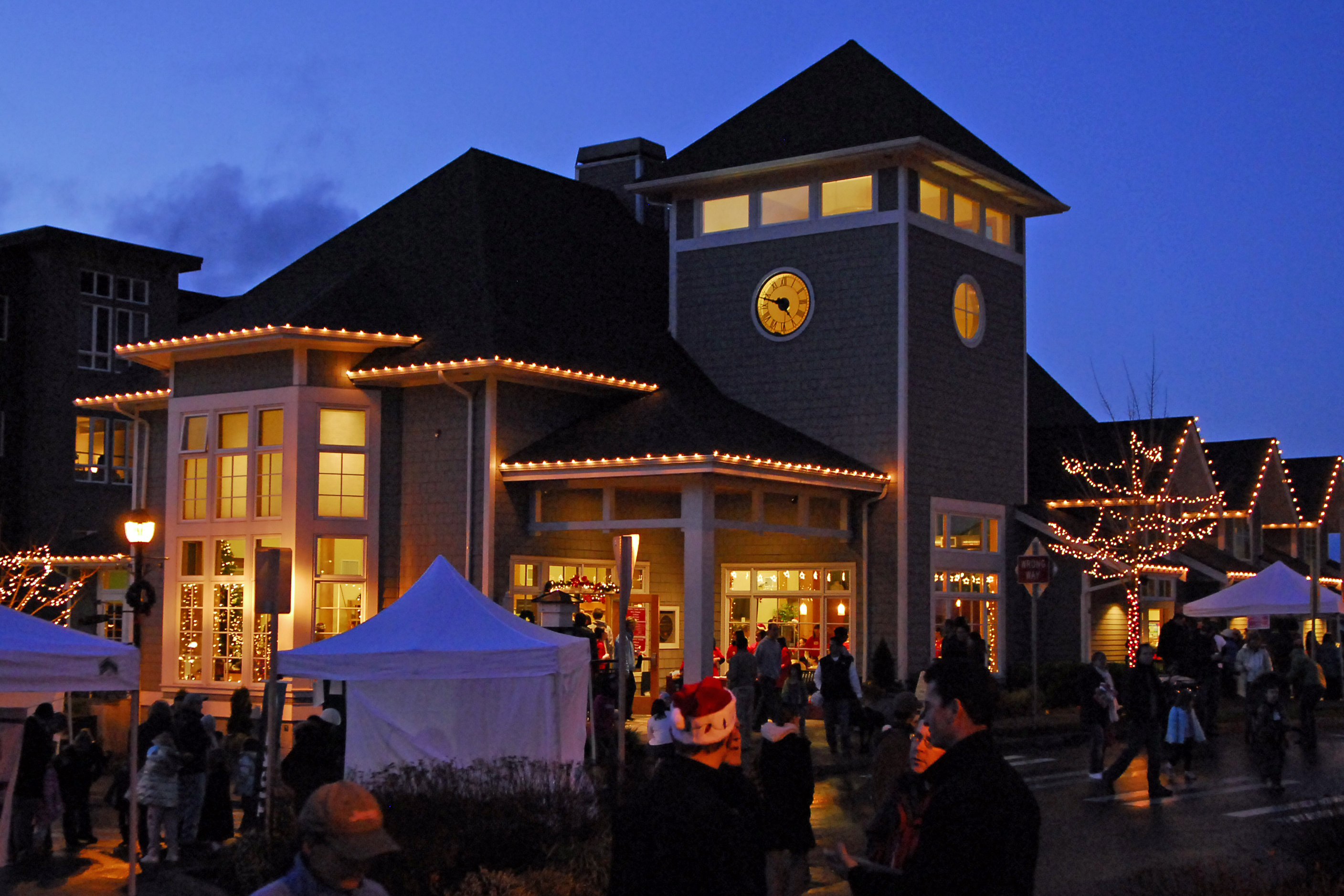 Reflections from Community, Then & Now
(Abridged from the March Connections feature story. See the full version (with fun photos!) HERE.)
Blakely Hall opened its doors as a community center in March of 2005. We hope you enjoy this walk down memory lane; from construction to completion. When constructed, Blakely Hall was seemingly the only building on "the hill." Today Blakely Hall is the epicenter of what makes this a vibrant and caring community committed to service, diversity, stewardship and well-being.
Blakely Hall is more than just a building.  Read comments from those involved from the beginning.
At the time, it was my job to do the land use permit and the construction permit review and approval for Blakely Hall. I remember being very impressed that Port Blakely Communities would built this hall for the community. It really is a testament to who they are and the kind of community they were trying to create. Blakely Hall epitomizes the quality and character they aimed for throughout Issaquah Highlands.
– Lucy Sloman, Land Development Manager & Designated Official for the Urban Villages, City of Issaquah
Not only was Blakely Hall built and dedicated by Port Blakely, Master Developer, but it was built with timber grown on Port Blakely land. I have so many memories but my favorite has to be the town hall meetings, where so many came together with a common goal to build a world class neighborhood that fostered engagement, collaboration and community!
– Jennifer Hagge, former Port Blakely Staff member and current property manager for Grand Ridge Plaza
Judd Kirk on the Vision of Blakely Hall
Interviewed by Christy Garrard, Executive Director Highlands Council and Dahlia Park Resident
Long-time residents will fondly remember Judd Kirk, the father of Issaquah Highlands.  Judd is the visionary behind this urban village and led Port Blakely Communities for many years.  Kirk Park, at the corner of 25th Ave NE and Natalie Way is named in honor of Judd's efforts.
In researching the history of Blakely Hall I asked Judd to comment on how Blakely Hall came to be.
Our fundamental approach to everything we planned was to try to be genuine and to do things the way they would be done in a real city, not a "project." The goal was to create a neighborhood within the City of Issaquah that was connected to the city and not detached from it.
We knew that gathering places and meeting facilities would be important, but we did want not to isolate the community by having its own private facility like a golf course clubhouse with a pool. We wanted as many places as possible open to the public. Unfortunately, some things take decades to develop in a city, such as the community ethic, senior leadership, public facilities and parks. As you know, we contributed to many public projects, such as the fire station, parks and the school and urged the public agencies to accelerate them.
In our early planning we assumed that meetings and gatherings would take place in public facilities like they do in other parts of the city. Many meetings, for example, take place in fire stations, schools and the community center. We also expected that eventually a hotel and restaurants would accommodate luncheons, dinners and meetings for groups. 
Unfortunately, we underestimated the demand and overestimated the investments the city would make in our community. We were surprised by how active our residents in phase one were and their desire to participate in the community. In planning the second phase, we saw so much activity and so little city support for public facilities in IH that we concluded it was important to create a community gathering facility for the many activities, clubs and meetings we envisioned in the future.
We failed in attempts to get the city to partner with us in building a community center. So we decided it was so important that we would build a smaller facility ourselves and turn it over to the IH residents to own and maintain.
How was the name, Blakely Hall, chosen?
In many towns, public buildings were given a name that relates to the history of the area, often after an early leader, or something important to the residents – not just "ABC Community Center." Here, we thought it appropriate to recognize the legacy created by Port Blakely and its role as the founder of the community.
Was the current location of Blakely Hall always the plan?  Is there a reason why this location was selected with the urban village?
We felt it should be centrally located with good access by foot, bike, car and ultimately public transportation within the community. At that time, Microsoft had an option to buy nearly all of the area in the town center and this limited our choices. Because of the topography and layout of IH, there was no clear "best" place to locate it. In planning the Village Green area to be the heart of the residential areas east of the power lines, this seemed like a location that met the basic requirements. It would also be adjacent to an open space we could build where outdoor community events could take place and could energize the retail area next door.
Is there a story behind the design of the building?  I have seen early versions of plans that showed guest rooms.  How did the plans evolve?
We thought it should be timeless architecture rather than using the current fad in architecture. We did not want residents 50 years from now to say – "oh, that must have been built in the '90's." We looked to smaller cities and villages that had been built in the last 200 years. We wanted it to look like a place of some prominence and symbolism for the community – a role historically played by churches in small towns in America and Europe, many with a bell tower that also enhanced the small community atmosphere. The bells symbolize community, much like a small town or college setting. This is nothing new and is basically the same concept I had used in another project, Carillon Point in Kirkland, to create a focal point and gathering place for the community. We had a great team of designers who were able to come up with designs that reflected our goals and fit within the local context of the Highlands and Issaquah.
Through my involvement with the Urban Land Institute, I visited many other planned communities around the country to understand what had worked and what didn't. One of the ideas I discovered was that a few communities had overnight rooms for visitors and relatives to stay in. It sounded like a good idea. As we did with most things, we explored that concept with many residents, including those involved in the IHCA. We all concluded that the benefits of just a few rooms would not justify the extra management and financial support they would require. We also felt the space would be better used for more meeting rooms or office space.
It is an honor to steward the vision and mission of Highlands Council through the use of this beautiful facility. The hall is busier than ever with the most diverse range of activities and users than we ever imagined.  From a State Senator's office to toddler ballet classes, from a group of knitters around the fire in the mornings to hot, Latin-inspired Zumba exercise classes in the evening.  Blakely Hall also functions as an art gallery space that can host film screenings in partnership with the City and political debates produced by the Chamber.  The list goes on…
I am extremely pleased and gratified with how the hall functions today. This is what I had envisioned and it is even more active than I thought it would be. I think that is because of the incredible residents who have selected Issaquah Highlands for their home and made it the community that it is today. We simply empowered them and provided the platform for community to flourish.
More Memories of Blakely Hall
Who Knew?!  On October 9th, 2005 a merry band of artists, art enthusiast and dreamers held their first ever public event in brand new Blakely Hall to introduce themselves to the community. Who knew that the seeds planted that evening would eventually become artEAST and a perfect partnership with the Issaquah Highlands Council to bring exhibitions and artist lectures year-round to this incredible space.   Congratulations and Happy Birthday Blakely Hall.  We love being part of your community!  And we love celebrating our 10 year birthday with you.
– The artists of artEAST
As one of the early residents of the Highlands, my family and I were so excited to watch Blakely Hall being built.  Once operational, it truly brought our neighbors together into a gathering place to facilitate a feeling of community whether it was for an annual IHCA meeting or the dozens of clubs, such as wine club, cooking club, or Toastmasters.  When I ran Highlands Council, I never forget the laughter and joy when children would pop over to Blakely Hall after school to the smell of buttery popcorn while they hung out to do homework or play XBOX in our TV room.
– Renee Zimmerman, former Executive Director for Highlands Council
Seems like just yesterday they were building it up. My favorite memory of Blakely Hall is a tough one to pinpoint. I went to daycare there, did Easter egg hunts, and spent extensive time working with the HY board in the Hall. I would have to say our Easter party for the HY board is one of my favorites. Seeing all of the teenagers having fun all together in one place was a great experience for me! I think the diversity and artistic beauty makes Blakely Hall special. Whether it be the great fireplace, or the ever-changing works of art hanging on the walls. I can't wait to see what the next ten years hold for it.
– Sean Davidson, HY Board Member
Blakely Hall is cozy, it is northwest classy, it is available for anything we want to host there for the community's enjoyment…and a wonderful place for private rentals. Also, the folks in the office are helpful, cheery, and always there to help out just like a good neighbor!
– Lynne Trowern
Blakely Hall is an architectural symbol of community in the Highlands. I love having the hall to use for meetings, like HY meetings, and special events. One year, I even had my birthday party at Blakely Hall.
– Larissa Kolasinski, Co-President of HY and senior at IHS
To me Blakely hall is smiles and laughter and people getting fit, and yes, changing their lives!  Blakely is our community home and a gathering place for friends, families and extended families. It is a place of art, in all of its forms, written, spoken, sung, played, danced and applied to canvas and clay. It is a place of weddings, holidays and occasionally tears…..  Blakely Hall is us, it is we, it is, the Issaquah Highlands – Happy Birthday, Blakely Hall!
– Cindy Klenk, resident and Zumba Instructor
A favorite memory is from Reptile Night at Pet Club and me holding a full grown ball python snake; I hate snakes!  And of course Thriller dance practices in the fall.
– Lynne Trowern
For me, the rotating art shows make it an adventure every time I visit.
– Adam Gervis, resident, soccer coach, and volunteer adult leader for HY
Among several fond memories of Blakely Hall over the past 10 years, two stand out in particular. Attending the Christmas celebration in December 2009 was memorable for us, since it has been the only Christmas we've spent in the Highlands. Petting goats, alpaca and camels as well as cookie decorations have always been special for our kids. Also, "Embracing zero waste" talk by Bea Johnson in October 2013 created a deep impression and awareness for us. We're grateful to be residing in a community with access to such a warm and charming place as Blakely Hall.
– Ami Desai-Mehta, resident and past member of the Community Development Committee