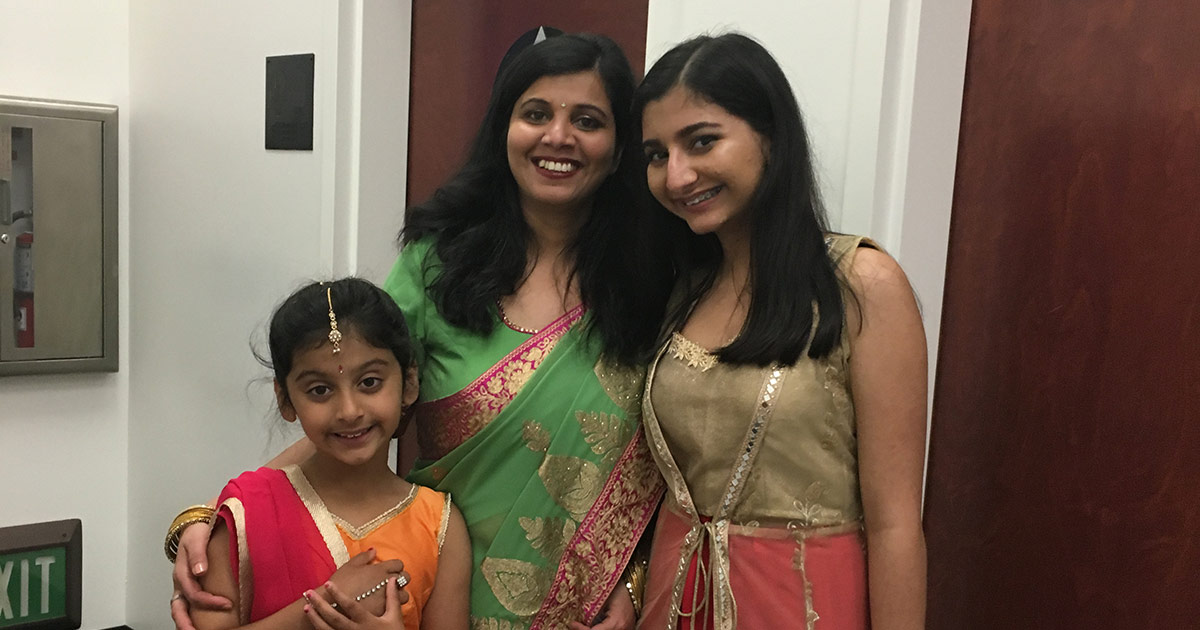 As seen in October 2017 Connections
Diwali, for me, is just not a festival. It's happiness, laughter, a breeze of new beginning, a start of a connection. The whole year we are so busy, running our routine, but when Diwali comes, the whole community stops worrying about day-to-day chores and starts working towards celebration. The senses are exposed to fireworks and light, to sweets and dresses. Words aren't enough to describe the power, the spirt it gets us going in, all comprised in one festival.
The light, the color, and the brightness that it brings. The continuous ringing of the doorbell as the guests keep coming and going. The endless exchange of gifts and outpouring of love and hugs from our elders. The giggles, the laughter, and the running around in the streets with friends! Diwali has a charm of its own.
Growing up, the celebration started well before Diwali with grand dinner parties and hanging lights all around the balcony. We decorated the house with flowers and colorful streamers, and filled the kitchen with lovely aromas of holiday foods. My mom and auntie celebrated by donning their best Indian attire (bindi, bangles, bright sarees). My brothers and I used to get new clothes and toys for Diwali.
Pooja (prayers) started five days before Diwali day and firecrackers, without fail, found their way before that! Streets were lit up and you could see rows of Diyas (oil lamps) on the thresholds of every house. Endless food and sweets were decorated in and outside of shops.
Monisha with her husband, Rajeev Singh Chauhan, and daughters, Vaanya and Vanshika Singh Chauhan.
Monisha's youngest daughter, Vaanya, holds one of the traditional Diya.
Diwali hasn't been the same since we moved to USA. In Washington, it's dark, cold and rainy during the month of Diwali.
After moving to a new country, making new friends took a while. With great enthusiasm, when I first tried my traditional rangoli (powder paint laid out in intricate designs) here, I soon figured out that we needed a twist on our tradition. Now we use plastic pre-made rangoli, something like floor stickers –at least it's rain and wind-proof.
After moving to Issaquah Highlands, Diwali is much better than before. We host and attend several parties around Diwali time. We try to do the best with the time we get as there are no U.S. government holidays during that time (we get lucky sometimes when Diwali falls on a weekend). Although we are miles apart from our relatives, we have made a family with our friends here.
The community also organizes a Diwali event at Blakely Hall to celebrate the occasion and to connect new families. In our own little way, we do our best for our friends and family to keep our Indian traditions alive in this corner of the world.
What is Diwali? Learn more here >