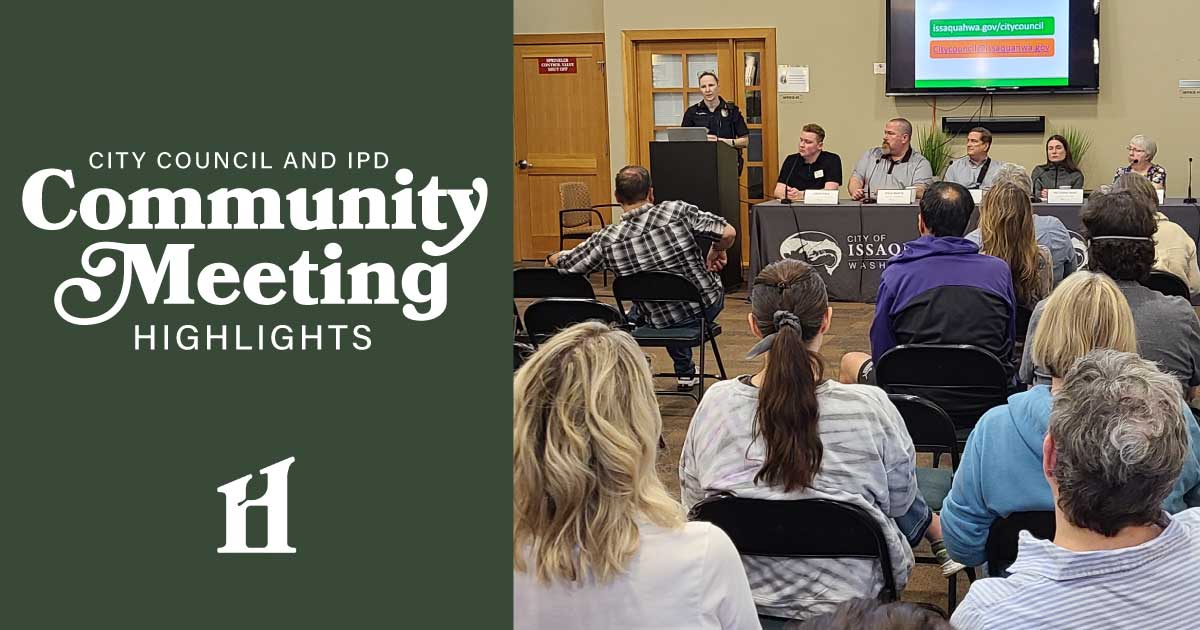 Officials Talk Crime, Development and More at Blakely Hall
On June 15 at Blakely Hall, Issaquah Highlands hosted a community listening session that included Mayor Mary Lou Pauly, the Issaquah City Council and several City of Issaquah employees, including *Issaquah Police Department (IPD) Chief Paula Schwan.
The purpose of the event was to provide up-to-date information on areas of interest to the community and to give residents the opportunity to ask questions and share concerns. Public safety, emergency preparedness, private development, transit, public works and infrastructure maintenance were all discussed.
CRIME:
Chief Schwan discussed the increase in crime over the past two years. She shared that an average of 10-12 crimes per month are committed in Issaquah Highlands, and that most of those crimes are theft.
To address the increase in crime and the issue of staff being down nearly 40% seven months ago, IPD has hired 22 new employees, all of whom have been vetted with background, psychological and medical evaluations. Corrections and dispatch are now fully staffed.
"We've had a lot of very qualified laterals that we've hired, and that has been very beneficial," Schwan said.
Those laterals are helping to bridge the gap while 12 of the 22 new hires are in training, either at the academy or in field training. The department is hiring for a couple more positions, including a crime analyst, who will make data and statistics readily available to the public.
IPD is also using non-recording city cameras to monitor areas of the community in real time if a call is received.
Collaborating with local businesses is another important step being taken. Specifically, an after-hours trespass program is in place, which gives business owners the opportunity to sign an agreement with IPD to take enforcement action if people not affiliated with a business are on the property after hours. Both the IHCA and Grand Ridge Plaza are currently going through the process to opt in to the IPD after-hours trespass program.
Monthly retail group meetings with city officials and blitz efforts for large retail chains are other steps being taken to address crime within the city. Blitzes are coordinated efforts between police and retailers that facilitate arrests. Victims of shoplifting — the retailers — have to be willing to prosecute for police to take action, even if a witness calls in a crime, and blitzes help smooth that process.
Police Chief Schwan offered tips for residents to protect their homes and vehicles:
Stay alert
Call police if you see something suspicious (911 for emergencies or the IPD non-emergency line: 425-837-3200)
Install good exterior lighting
Install and use an alarm system
Lock windows and doors of homes and vehicles
Remove items from cars, even power cords and empty bags
Park in the garage
EMERGENCY MANAGEMENT:
City of Issaquah Emergency Manager Lee Shin shared steps residents should take to prepare:
Create emergency supply kits that include 72 hours of food and water
Learn first aid/CPR
Identify a safe place for all emergencies (flood, earthquake, fire)
Identify an evacuation route
Teach all in home where to shut off water, gas and electricity
During emergencies, get key information at the city's website (Issaquahwa.gov), via the city's Twitter feed (@cityofissaquah) or on 1700AM radio. The city also offers a Community Emergency Response Team (CERT) training course. Sign up at Issaquahwa.gov/em.
PUBLIC WORKS AND DEVELOPMENT:
Public Works Operations Manager Bennett Ashbaugh noted the I-90 on-ramps are the responsibility of the Washington State Department of Transportation, and surface repairs are out for bid. He also discussed several projects his department is working on or recently finished:
Painting light poles along Highlands Drive and 9th Avenue
Making pavement improvements on 15th Avenue south of Park Drive and on Highlands Drive from Discovery Drive toward I-90
Installation of Rapid Flashing Beacons at two crosswalks on Park Drive
Community Planning and Development Director Minnie Dhaliwal discussed the ongoing single-family and townhome construction in Westridge, including affordable housing units there. She also highlighted the High Street Linear Park and the 10 homes to be built on Parcel D at the intersection of 15th Avenue Northeast, Falls and College Drives, adjacent to Forest Ridge.
Watch the full video here.
*IPD Chief Paula Schwan was appointed and sworn in by City Council on June 21, 2022. At the time of this meeting, she was recognized as the interim IPD chief.
Jim and Carol Halas are Dahlia Park residents.