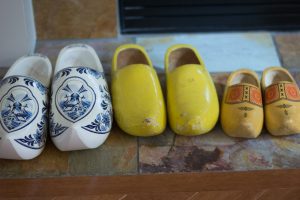 Culture Through Cuisine – Dutch
By Resident Volunteer Writer, Kimberly Collette, Central Park
From September 2016 Connections News, Culture Through Cuisine
There's a Dutch saying, "Eet Smakelijk!" It carries the same sentiments as "Bon Apetite" as they say in France and "Enjoy" here in the United States. Within moments of arriving at a Dutch person's house there's a drink in your hand and food on the table, says Michael Pronk.
Michael's parents were born and raised in the Netherlands. They met and married and came to the United States through Ellis Island with 50 dollars in their pocket and looking for the American dream.
The Pronks had seven kids, including Michael. Their kitchen was a Dutch kitchen. Usually just one warm meal a day, usually at dinner time. Breakfasts and lunches were open faced sandwiches. With five hungry sons lunches packed for school usually boasted two of the open faced sandwiches, windmill cookies and gingerbread spread with margarine.
Dinners were meat and potatoes. "I remember my dad sitting on the back porch with a knife shaving the skin off potatoes," says Michael.
Sundays were for soup in the Pronk home. It was broth based soup with noodles and meatballs and was simply called Sunday Soup. Michael's dad always made it.
A special treat in particular that Michael remembers is bread that was spread with butter and then covered with sprinkles. Michael still has an impressive selection of sprinkles in his kitchen.
The Pronks made several trips back home to the Netherlands and stayed close to their Dutch heritage. At Christmas time they would receive a large tin filled with Dutch treats of marzipan, cookies and stroopwaffles, which are a thin cookie with a sweet caramel layer in the middle. As Michael started his own family he carried on the tradition and his children's' stockings were filled with the stroopwaffles.
Michael and his, daughter Christina Holtom, are making Dutch donuts called Oliebollen. Growing up, Christina remembers Oliebollen as a New Year's tradition. The dough is made ahead as it is a yeast dough and needs time to proof. The recipe comes from Michael's mother. "She would usually make it the night before," he says.
The yeasty dough is filled with raisins and a diced fresh apple. Christina and her dad stand around the boiling pot of oil. Spoons are used to scoop out a large blob of the dough. It is sticky and spotted with the dried and fresh fruits.
The dough is dropped and the oil bubbles. The doughnuts are cooked in small batches so the oil temperature isn't lowered too much. They doughnuts are imperfectly shaped and turning a golden brown.
"They go really fast in our house," says Christina. When she was in 3rd grade she made them to share with her class for a cultural celebration.
As the doughnuts come out the are laid on a plate with paper towels to cool and release any extra oil. They sprinkle them with powdered sugar.
Michael and Christina laugh about memories and traditions. They set an especially crazy shaped Oliebollen aside for Michael's wife who is out. It's a tradition that has been carried with the Pronks from the Netherlands, through Ellis Island and now resides safely in the Issaquah Highlands.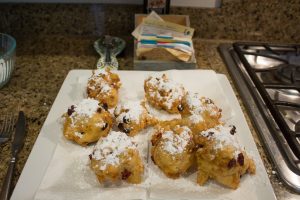 Oliebollen (Dutch Doughnuts)
1 cake (2/3 oz) Yeast
1 cup Milk
2 ½ cups Flour
2 tsp. Salt
1 Egg
1 ½ cups Currants and Raisins (washed)
1 tart (cooking) Apple
Fat for deep frying
Powdered Sugar
First blend yeast with a little luke-warm milk. Sift the flour with salt. Add milk, mix to a batter with yeast and egg. Add currants, raisins and peeled, minced apple. Leave batter in a warm place to rise to double its size.
Heat the fat to 375 F. Drop by spoonful into fat. Fry for 8 minutes, until brown. Cover thickly with powdered sugar.
(Recipe from "Oma")