zHome is a real-life experiment in sustainable living. This neighborhood provides homes for their residents and sustainability data for greater public. zHome is the first zero net energy townhome development in the country, leading the way in "carbon-free living".
zHome achieves Net Zero Energy: They produce more energy than they use.

zHome is a 10-unit townhome neighborhood next door to the YWCA Family Village on High Street. They were completed in 2010 and open to the public for their first three months as showcase homes, providing tours and classes for builders and sustainability professionals. Then the zHomes were sold for market rates. One unit remained a public facility for classes and tours. This October the City of Issaquah, Office of Sustainability hosted a "Close-Out" celebration, marking the selling of that remaining unit (selling as "affordable housing") and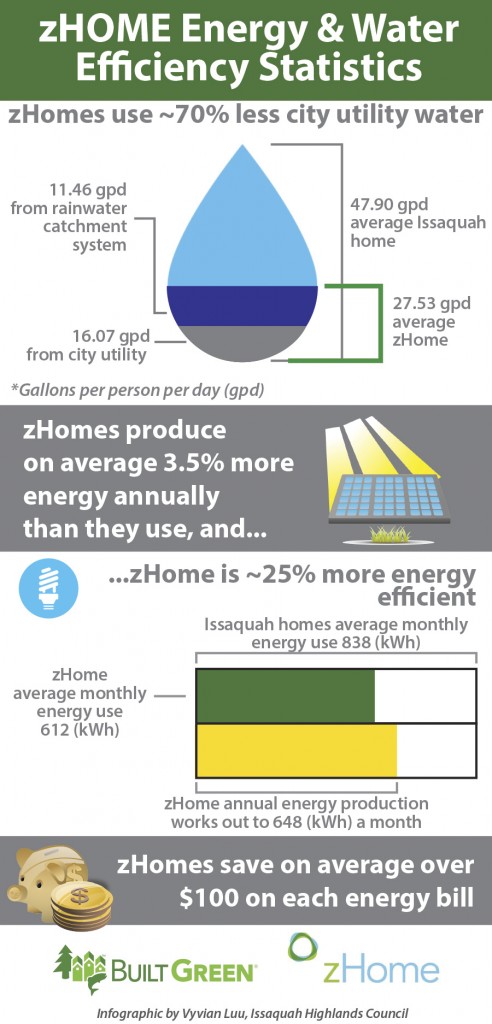 celebrating zHome's successes.
The celebration attracted members of the community, sustainability leaders, King County and City of Issaquah staff and elected officials. Issaquah's Mayor Fred Butler welcomed all with a proud address especially proud of Issaquah partnering on the first every net zero energy townhome in the U.S.
How does zHome reach net zero? First of all, zHomes are super energy efficient. Innovation such as a ground source heat pump, heat recovery ventilators and hydronic heating result in a 35% reduction in energy use. zHomes' roof top solar panels produce more energy in a year than the homes use. During the high production months, zHome's surplus power goes back into the grid for use elsewhere.
zHome is also an innovator in water use. Since much of their water comes from a rainwater catchment (cistern) system, the homes use 70% less utility water than the average home. Also, zHomes have outstanding indoor air quality.
I asked Erika North, Community Manager for zHome for the Issaquah Highlands Community Association (IHCA) what is different about managing the zHome neighborhood. "The neighborhood is more challenging to manage. They have a lot of technical components, such as the geothermal and cistern systems. But the community is much like other neighborhoods when it comes to working with the residents to make their living experience enjoyable. They have a Neighborhood Committee that is very involved and committed to controlling costs while keeping the best interests of the owners in mind. I truly enjoy working with this group."
zHome is just one of the many sustainability stars in Issaquah Highlands, a project to be proud of and to learn from. See their informative website at zHome.org. Stop by the neighborhood on your way to the movies or the park and ride. There you will see the features first hand while you can read the many placards on site describing the technology and building designs the neighborhood employs.
Come back next month for notes from residents on how the zHomes work in real life, how living in an experiment in sustainability influences choices and habits, and how it saves money!
zHome Awards:
Emerald Star The highest Leadership in Energy and Environmental Design (LEED) Certification by the U.S. Green Building Council
Built Green Hammer Award (King and Snohomish Counties): For builder Ichijo USA
Good Design Award from Japanese Institute of Design Promotion: For builder Ichijo USA
Development of the Year Award 2011: Named by Northwest ENERGY STAR Homes
Green Globe Award: Along with YWCA Family Village jointly recognized for Community Leadership in Green Building by King County
Design & Build Award from Forest Stewardship Council (FSC): For builder Ichijo USA
Salmon-Safe Certification: First Salmon-Safe certified residential project in Washington