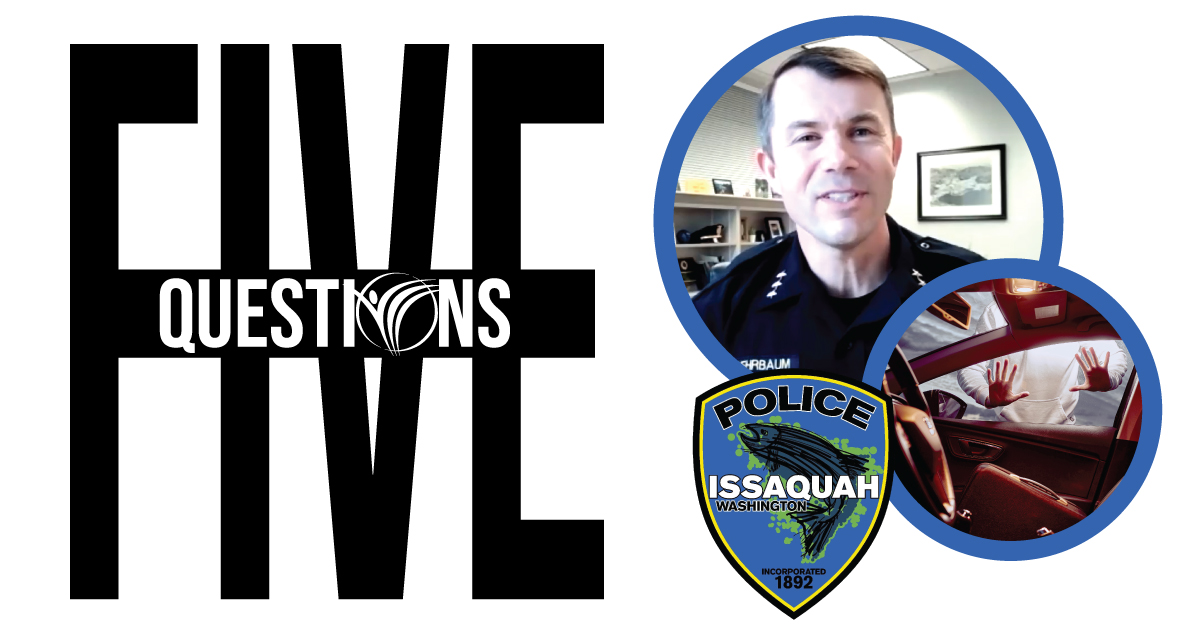 Click here to go directly to video >>
In Highlands Council's 2021 community-wide survey, we learned the community's foremost concern (aside from COVID-19) was neighborhood crime and safety. In this "Five Questions," interview, Issaquah Police Department (IPD) Chief of Police Scott Behrbaum compares crime rates in Issaquah to surrounding cities and promotes the city's Community Dashboard as a resource for more detailed information about crime in Issaquah Highlands. We also discussed the city's response to and plans for addressing homelessness, as well as how to protect personal property from theft.
Regarding racial tensions and police relationships with diverse populations nationwide, Chief Behrbaum's shared his commitment to building public trust during this time and always.
"Every day, our employees look at it as an opportunity to build trust with our public. The foundation of policing is based on public trust," Chief Behrbaum said. He mentioned the city's Police Accountability, Equity, and Human Services Action Plan as part of IPD's efforts to address "all things policing."
"As a city, we're taking a close look at how we do business in our community and we're committed to making a change and working closely with our community moving forward."
How can we as a community show support for IPD?
"A smile and a wave go a long way," Chief Behrbaum said.
Reminder: If you see something, say something. Chief Behrbaum encourages you to call or report online for any reason, no matter how small. Your tip could be the missing piece of an investigation puzzle.
Save the Date!
The Issaquah Highlands Cross-Cultural Committee will host a meeting with Issaquah Police Department Chief Scott Behrbaum on Thursday, May 6 at 7 p.m. All are welcome to attend. Please submit your questions in advance to lindsey.p@ihcouncil.org. Click here for more details >>