We LOVE autumn in Issaquah Highlands! By September fall-themed wreaths and baskets of fall-colored mums start to appear on the front doors of our homes just as the trees are barely starting to turn; we are already in the spirit.
The return of the salmon to Issaquah's rivers and streams also signals the season. And on the first weekend of October everyone hops on a school bus and heads down to the Salmon Days Festival with friends and family; a reunion not just for the salmon but for our community as well.
Halloween comes next and the Highlands REALLY turns on the spooky charm! It gets darker earlier so it is easy to have an after dinner family walk and explore the creepy curb appeal of each neighborhood aglow with jack-o-lanterns, boo-blinking porch lights, flowerbed cemeteries, and haunting motion-detected laughs, screams and cackles.
Halloween in the Highlands Festival is our local ghoul and goblin gathering, held once again at Grand Ridge Plaza. Join the fun on Saturday, October 18th from Noon – 4pm. Leave the car at home in true,  Highlands-style and take the FREE Zombie Trolley from stops along Park Drive NE.  Everyone comes in costume, adults too, to enjoy the festival fun!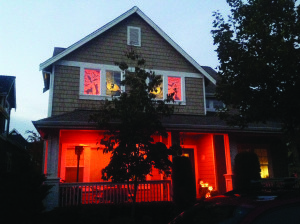 Finally it is Halloween night! And nobody trick or treats better than Issaquah Highlands! New to Halloween? Here's what you should know:
An unwritten rule is that middle and high school students are discouraged from trick or treating – they leave this night to the little ones.
Trick or Treating typically starts at twilight, around dinner time this time of year.
If a home is dark assume they are NOT participating or are out of treats – move to the next illuminated home.
By 8pm the giggles and door bell ringing begins to die down as the fairies, firefighters, black cats, and Batmans return to their lairs to examine their Halloween haul.
And from the CCRs written rules: From the IHCA Rules & Restrictions document: Holiday decorations and lights may be neatly displayed during seasonal time lines only on the homeowner's lot. Decorations and lights may be installed 30 days prior to the holiday and must be removed within 14 days after the holiday.
Happy Halloween, Issaquah Highlands!
My favorite thing about Halloween in the Highlands is…
Read your neighbors favorite things and see more photos from Halloweens past in October Connections. It's right there on your kitchen or living room table. If not, read it on-line.