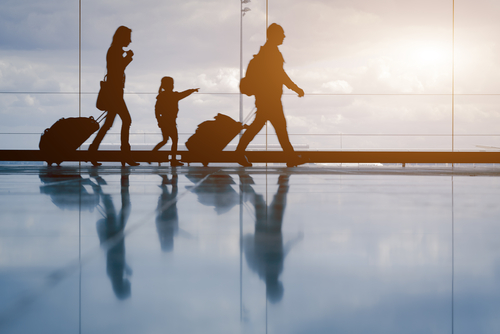 Tips for Holiday Travelers
By Audrey Slade, Discovery Heights
Hard to believe, but this year will mark our fifth year of holiday travel planning. When we moved to the west coast from the east coast, we knew that traveling home for the holidays would become a regular occurrence for us. Having just traveled across the country and being regular adventure seeking travelers even before our move, we figured that we would have a good grasp on the concept.
We figured wrong.
It has taken us five years, but we finally feel like we've got this holiday travel thing down. Whether you're traveling across the country by plane, or driving hours in a car or train, here are some of the things I have learned about holiday travel over the past few years.
Book EARLY By the time you're reading this it will be to book early.  However, keep this in mind for next year:  Buy your tickets the minute you find a decent fare.
Redeyes don't have to be miserable …not even with kids. One of the greatest tips I have for travelers with small children?  Get the redeyes.  They are less expensive and your child is more likely to sleep on these flights.
Make it a mini spa session Okay, I'm getting a little girlie here, but the day I realized that I could utilize my flight time as Mommy time was a glorious one indeed. I now pack a little bag of spa-type goodies to pamper myself on the (usually overnight) flight. Lotion and moisturizing socks? Cool, soothing under-eye cucumber treatment while I rest? Absolutely. Leave in hair conditioner under a scarf? You know it.  Just be considerate of others: use unscented products.
It's okay to say no After our first trip home, we were exhausted.  There were a million people we wanted to see. We ran around to see everyone who asked us to visit. Now we hold one night open for visiting with friends. My parents graciously open their house to everyone who wants to see us and hang out. We eat, we drink, and we're merry. We understand not everyone will be able to make it, and that is okay.  It's okay for them to say no, as well.
With a few exceptions, your Presence is the Present Traveling is expensive. As we get older, we start to realize that the importance of the holiday season is not the material presents, but rather being with the people we love. While you might feel guilty or awkward initially, understand that nearly everyone you are going home to see could care less about receiving gifts. There are exceptions, of course, specifically kiddos.
What presents you are giving out, mail them ahead of time Checked baggage can be costly and miserable to drag around the airport.  Mailing out the presents ahead of time will save you time, troubles, and money.
Accept travel hiccups Unless you're flying to somewhere tropical, holiday travel usually involves winter weather worries such as icy runways, snowstorms, and wind. Sure, it is never ideal to get delayed, but it is also an unfortunate hazard of winter travel. Be kind to the people who work for the airlines and show patience for those around you. Everyone wants to get home. Doing so safely is the number one priority.
Be prepared for those hiccups Yes, that means extra set of undies in your carryon and a toothbrush in your purse. It also means cash on hand and a charger in your carryon.  Your prescriptions. Some games. Perhaps a little blanket. No one ever wants to get stuck in an airport, but if it happens, it is better to have the little things you need.
Bumps can be your friend I hesitate to say this last piece of advice, but it has helped us pay for several of our trips back home over the years. If you have the time and the flexibility in your schedule, the holidays are an incredible time to get bumped off your flight in exchange for travel vouchers. One trip alone resulted in $2,400 in vouchers for my family, and we were put up in a nice hotel and had our meals paid for.
Ultimately, the key is finding ways to make the holiday travel work for you and your situation.  Make a plan ahead of time and seek out every opportunity to enjoy the place you are and the people you're with. After all, isn't that what the holidays are all about?
A happy, prosperous, and success filled 2016 to you all.  May your bellies and hearts stay full, and your adventures be silly and many.