The IHCA Annual Report
The Issaquah Highlands Community Association, or IHCA, is the homeowners' association in Issaquah Highlands. It is governed by a volunteer Board of Directors comprised of Issaquah Highlands Homeowners with representation from each Board District, elected by the homeowners. Its mission is to maintain property values and quality of life for the residential community. The Association enforces the rules, restrictions and CCRs, provides architectural review, and maintains common areas such as parks and streetscapes. But that list does not do justice to the variety of services the IHCA provides. Executive Director, Sarah Hoey, and her staff are a powerhouse on the hill. Sarah recounts in this month's feature story IHCA's last fiscal year's accomplishments.
IHCA Annual Meeting
Wednesday, June 29th, 6:00pm, Blakely Hall
Wednesday, July 27th, 6:00pm, IHCA Offices
Due to a lack of quorum at the June meeting, the IHCA annual meeting has been rescheduled to follow the IHCA Board of Directors regular, monthly meeting in July. No business is being transacted that requires a vote except to approve the minutes from the 2016 annual meeting. If no again there is no quorum, the minutes will automatically be approved.

IHCA – A year in review By Sarah Hoey, Executive Director, Issaquah Highlands Community Association, IHCA
Wow where did the time go? Having celebrated my one-year anniversary as Executive Director with the Issaquah Highlands Community Association (IHCA) on March 1, I reflect on these fiscal year- end accomplishments. There have been so many!
Administration and Staff: The IHCA administration has undergone a complete reorganization of the staff under my direction. I hired four new employees to assist in customer support, administration efficiency and project management.
We are already seeing amazing results from this dynamite and reorganized team. Office staff reorganization, personnel fulfillments, and benefits containment have contributed to $65,000 cost savings!
I reviewed the employee benefit package and implemented a change to a superior 401k program, resulting in $9,000 in annual savings to the Association. I also reviewed and renewed the medical, dental, vison, and hearing insurance coverages at no additional cost.
Our team increased the efficiency of the escrow payoff process and implemented a New Home Owner Welcome Packet. The Welcome Packet is mailed to all new homeowners shortly after the closing process and includes vital information regarding the operations of the Issaquah Highlands Community.
The IHCA is committed to its employees and the community. We regularly attend Community Association Institute (CAI) continuing education events for accounting, landscaping and maintenance. We also renewed first aid and CPR training for the entire team.
Our team works in conjunction with Highlands Council to host landscaping seminars and New Resident Orientation Receptions; these joint ventures are well-attended.
New office space: In December of 2015 the IHCA was notified that our current sub-lease under Port Blakely, with master
lease to Regency Centers (Grand Ridge Plaza), required us to relocate if asked. They asked, and we found ourselves in a difficult position. After extensive research the Board of Directors and I formulated a five-year plan which will include an IHCA owned office space. In the meantime, we have successfully moved across the hall to the available space and negotiated a lease renewal with Regency Centers. We remain in the same building, and yes, the office smells like Ben and Jerry's waffle cones, but we are coping.
Landscaping and Maintenance: Did you know that a large majority of the retention pond water is recycled and used to water our common area landscaping vegetation? These ponds are connected by underground lines and computer controlled. Due to the extremely hot summer, we had to work with the City of Issaquah and the IHCA landscape department, for the 1st time in our community history, and pump water from one pond to another to ensure adequate irrigation water supply last summer.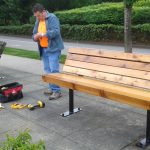 The IHCA embraces the Living Green community mantra by recycling, adding lower gas emission vehicles to the fleet, continuing to manage open spaces with goats, participating in carbon off-set programs and upgrading our irrigation system with more efficient technology.
Maintenance Supervisor, Matthew Hendricks, is keeping busy power washing, painting, staining, making fence repairs, removing graffiti, replacing signage, rebuilding or replacing mailbox surrounds and more!
The IHCA hired an independent certified playground safety inspector to evaluate the IHCA owned playgrounds. The main recommendation was to add more playground chips to play zones; this has been completed.
Accounting: We maximized financial opportunities this year! Our accounts receivable delinquencies have been significantly reduced. We have over 3,000 homes, but only a handful of accounts are in collections – billing and collections are one of our critical processes.    
In addition to our highly-efficient monthly auto-debit (ACH) payment program, effective June 1, 2016, we launched an online banking portal to enable one-time payments using eCheck and credit cards. This service can be accessed from the IHCA main page at IssaquahHighlands.com.
Staff scrutinized costs throughout the year to stay under budget with real cost savings. We review our cash positions regularly to attain the highest interest yield with deposit insurance. Over 50% of our deposits are currently invested in certificate of deposits while maintaining sufficient liquidity. We are led by our talented seven-member, volunteer Finance Committee, made up of homeowners who exemplify service and leadership at its best.
Reserves studies: The IHCA conducts annual reserve studies to ensure that all capital assets are accounted for and funds are properly allocated for future expenditures. Our team led a volunteer-homeowner task force and in conjunction with an independent company, Association Reserves, we identified new components and adjusted the funds accordingly. The reserve study is 91% funded which is a national best for an association of this size and age.
Here are the 2015/2016 reserve projects completed this year:
Kirk Park Pavilion fence painting, open space back fence stain project in multiple areas, storm drain cleaning
Stair repairs and cleaning are on track for 30th street down to 25th
Partial painting projects for Concord Commons, West Highlands Park, Crofton Springs, Crofton at Village Green and Villaggio
Crofton Springs water feature is operational
All metal railing and fence painting is in progress
Technology: With the help of Highlands Council, we moved the IHwebsite information to IssaquahHighlands.com – now all the community information is at your fingertips. In addition, IHCA upgraded its computer software, invested in IT advances such as new servers, increased firewall protection, changed the data storage module, and consulted an independent, 3rd party, IT company to analyze our systems and review cyber theft protection protocols and policies.
We negotiated our cloud-based property management software contract; this along with other technology cost savings total $50,000.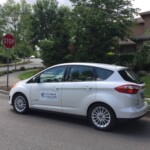 Covenant Compliance:  I have concentrated on compliance inspections this year. Believe it or not, this is our least favorite thing to do. However, it is a necessary part of our duties to help maintain property values. I named Collene Cordova as the dedicated compliance inspector. We have reviewed the compliance inspection process, upgraded software, re-drafted the compliance letters and now include photographs of the violation to the letters. Overall, violations have drastically declined and the volunteer-homeowner Covenant Committee rarely meets to hear grievances because…well… it's hard to argue with a picture.  
High Streets Commercial: As the Executive Director for the IHCA, I work with a team of architects to review new commercial building plans and exterior changes for the High Streets commercial portion of the community, which spans from Swedish Hospital to the common areas of Grand Ridge Plaza and surrounding areas.
This year we welcomed Prime Numbers, Home Street Bank, Discovery West Apartments, Harborstone Credit Union, La Boutique Jolie, and coming soon the Allegro Pediatrics. I also oversaw the architectural review of the new Wynhaven Apartments signage, Proliance building addition, Swedish parking lot construction, Issaquah Terraces Apartments easement agreement (which linked their community to ours), way-finding kiosk maintenance and changes, United States Postal Service signage changes, and contracted a new holiday lighting vendor to ensure continuity through the community.
Builders:  I routinely inspect the new construction occurring within the community for compliance to the agreed architectural design. Polygon, Toll Brothers and Ichijo are currently building in our community and I will continue to oversee the architectural review process with the team to ensure compliance to the governing documents now and in the future. Build out of Pinecrest, The Brownstones and Sun Ridge should be completed by fall.
Grand Ridge Drive Water: The Grand Ridge Drive water system has now been successfully transferred to the City of Issaquah from the IHCA; this was a four-year project.
Looking forward: What projects are in the future for IHCA.
Future Maintenance Shop – It is extremely unusual for a master planned community of this size to not have established infrastructure in place for the administration office and the landscaping and maintenance departments. The shop's current location has no running water, bathroom facilities, shelter or secure storage for the fleet or equipment. The board has approved the construction of a 3,000 square foot maintenance facility which will be built on IHCA land in the current storage area off Park Drive, below Trail Head Vista. On behalf of the IHCA staff, I would like to personally thank the volunteer Board of Directors (homeowners) for approving this facility which will be built in the months ahead.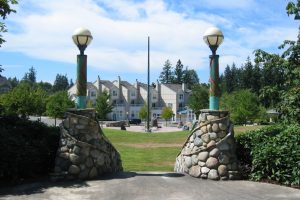 Ashland Park – Issaquah Highlands is almost 20 years old! Ashland Park, designed by local artist, Milenko Matanovic, is in serious need of repair. I formed a resident focus group and met with the original artist to determine the needs for this park. The IHCA will be revitalizing the park and embracing its original design in the year ahead.
My first year as Executive Director for IHCA has been amazing and I am embracing living in the PNW. I had the distinct honor of being nominated by the IHCA staff for the Community Association Institute's National Top 50 Managers of the Year award. I am truly honored to be a part of such an amazing, dedicated, hardworking team and community. Everyone has made my first year in the PNW very special. I look forward to the future growth of this unique and diverse community.