Issaquah Highlands resident Mark Mullet is at it again. As if a pizza place, three ice cream shops and a seat on the Washington State Senate were not enough, he's beginning yet another venture. Coming soon this summer, Mark's ice cream will be available by food truck for catering private events.
Ben & Jerrys on 10th Ave NE and Zeeks Pizza at 25th and Park Drive NE, have been mainstays for the community for several years. Mark is a loyal sponsor of not only this paper, but numerous community events each year.
Why open a new branch of the ice cream business now? When Mark bought the Kirkland Ben and Jerry's in September of 2016, he began receiving request for the previous owners' "Scoop Truck" to bring Ben and Jerry's ice cream to their special events. "This made us realize that having a "Scoop Truck" raises a catering event to a higher level and leads to more repeat business," Mark explained.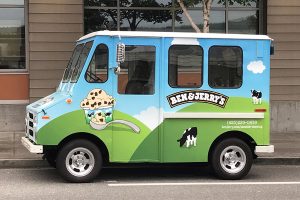 Business partner, Jonathan Stebbins (who we often see running the day to day business at Zeeks), gets the credit for championing the idea for a catering truck. "He spent countless hours on Craigslist and eBay looking for an affordable truck," Mark gratefully explains. "He even kept us from getting scammed by a Craigslist fraud who listed truck for sale for $4,000 that Jonathan had seen on eBay for $35,000. The fraud simply copied their pictures into a fake listing. We eventually purchased a converted an old mail truck bought from people in Graham, WA."
Mark enjoys running the family businesses. About having his oldest daughter Isobel start working in the family business this spring, Mark rejoices, "I was ecstatic! Isabel is starting her freshman year at Issaquah High School in September and is saving half of her paycheck to go towards a car purchase when she turns 16." Of the other half, Mark ponders how it mysteriously vanishes at Starbucks and clothing stores in Bellevue Square. 
But wait, there's even more! In addition to the three Ben and Jerry's (Issaquah, Kirkland, and Bellevue Square), Mark is adding a new Zeeks to the Metropolitan Market retail center in Sammamish in the fall of 2018.  This will be the first "delivery hut" that Zeeks has ever opened: pick-up and delivery only; no dine-in.
The Ben and Jerry's ice cream truck is available for catering anywhere on the Eastside. See benjerry.com/eastside-catering for information, or call (425) 229-0939.  
Be one of the first to eat from our community's newest food truck at Highlands Day! Learn more >