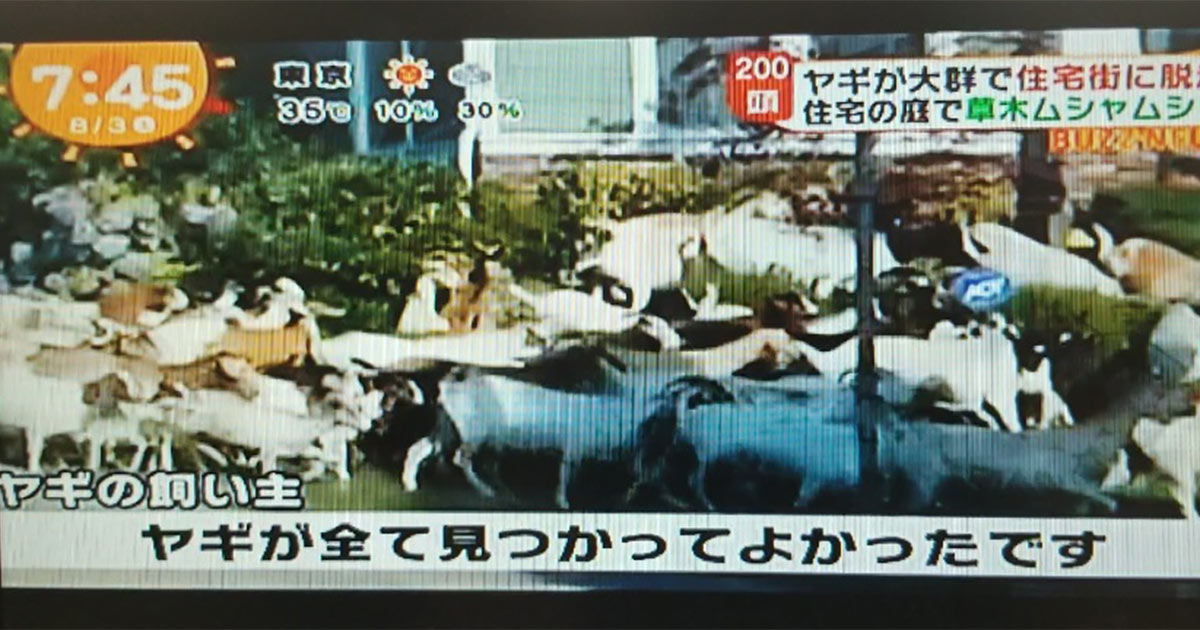 On August 2, Japanese television network, Fuji TV, reached out to Highlands Council through our official community Facebook page regarding "The Great Goat Escape" that took place in the community on July 30. The goats are hired each year by the IHCA. They mow and trim the vegetation on our steep slope open spaces, spaces that are too steep for a mowing machine. This is the piece Fuji TV produced for morning news magazine program, "Mezamashi Terebi."
Issaquah Highlands resident, Yoshimi Nakahara, volunteered to translate the video. Thank you, Yoshimi! Her translation is below:
住宅街に押し寄せる白い動物の群れ。
Group of white animals are invading the residential area.
これは先月30日にアメリカのワシントン州で撮影された映像です。
This video was taken on the 30th of last month in Washington state in US.
多数のヤギが囲いを突破して飼育場から脱走。
Number of goats has breakthrough the fence from the farm.
飼育場の草を食べつくし、次のえさを求めるうちに住宅街に迷い込んだとみられています。
People believed that they have finished all the grass in the farm and they have wander off into the residential area for more grass.
200頭以上のヤギがあっという間に住宅の庭を埋め尽くします。
In a second more than 200 goats have fill the street and porch in the neighborhood.
ヤギ達は庭に生えた草木をおいしそうにむしゃむしゃ。
All the goats were munching on the flowers and grass deliciously.
また良く観ると牧羊犬も手をやいている様子。
If you look closely, the heeler is also puzzled and having difficulty getting them back.
この騒動についてヤギの飼い主は「住民の皆様に本当に感謝しています。全てみつかって良かったです。」
The goat's owner "I'm glad to find all my goats and I really appreciate all the helps I got from the people in the neighborhood"
ヤギが逃げてから3時間
3Hrs from the goat's escape
多数のヤギが男性を追いかけヤギであふれかえります。
Overflowing with goats that are following the owner.
ヤギ達は近所に住む人の協力で全て捕獲され飼育場へ戻ったということです。
With all the help from the people in the neighborhood, all the goats are back in their farm.