Every month we publish a photo of something (or somewhere!) in the Highlands. While some months are easier than others, all photos are of something accessible to the public. It is up to you to guess where the photo was taken.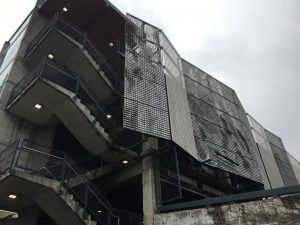 Last month's photo was of the artwork by the artist Ned Kahn at the Issaquah Highlands Park and Ride. Two sides of the building are covered in "Glacial Façade," which was designed to move with the wind. The swaying aluminum squares create a rippling effect as if the wall is made of water. It's artwork for both the eyes and ears, as you can stand below and hear the "water" rustle as it's rippling.
Correct guesses were submitted by:
Toni Hunter
Kuldip Singh
Brooklyn Holden
Bonnie Ervin
Melissa Tubbs
Prakash Balasubramanian
David Roy
Joel Roy
Quinn Ryan
Mason Possing
Nhi Nguyen
Doreen Kolenc
Heather Krabbe
Manpreet Kaur
Anuma Dhwaj
Nitya Shankar
Christina Schmidt
Sarahi Ayala Vela
Thanks to everyone who participated!
This month's photo is below. Can you identify the location in this picture?

If you think you have the answer, please email it to IHPhotoHunt@gmail.com  along with your full name. Please be as specific as possible when emailing your response. Responses will be accepted until June 12th. Those with the correct answer will see their name published in next month's issue of Connections, as well as have their name entered into a drawing for a $25 gift certificate to Ben and Jerry's. Everyone who responds with a correct guess will be entered to win. Every correct guess is an entry!