After sweeping their opponents in district, state and regional tournaments, the Issaquah Little League Majors All-Stars softball team—featuring two players from Issaquah Highlands—will take on a new level of competition from across the world.
Issaquah will represent the Northwest region of the United States in the Little League Softball World Series in Greenville, North Carolina, next week. The team kicks off the tournament against a Texas team representing the Southwest region on Tuesday, Aug. 9, at 1 p.m. Games can be watched on ESPN+.
Two residents of Issaquah Highlands, Gracie Boone (#13) and Molly Shea Garvey (#17), said they are excited to play at a higher level.
The girls both play on select softball teams as well, so it's not unusual to compete with and against the same players across Washington state. However, the world series will allow them to experience new techniques from different cultures as well as other styles of play.
"I'm excited to play teams from the other half of the world," Gracie said.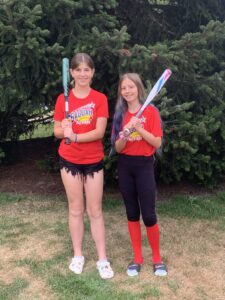 Gracie, an outfielder, attends Pacific Cascade Middle School as an incoming seventh grader. The left-handed batter, 12, has mastered the technique of slap hitting, making it difficult to throw her out at first base.
Molly Shea, who plays catcher, lives in Pine Crest and is entering eighth grade at Issaquah Middle School. The 13-year-old recalls her favorite defensive play during regionals was picking off a runner who took a big lead at first base.
Their team is currently undefeated after conquering teams at the district tournament in North Bend and the state championship in Des Moines. Most recently, the All-Stars steamrolled the competition at the Little League Softball Northwest Region Tournament in San Bernardino, Calif., with a combined score of 46-7 over four games.
In San Bernardino, the All-Stars team gave up zero errors throughout the entire tournament. Judd Boone, Gracie's father, said the team is known for its strong defense and base running. The girls also hit the ball well, he added.
Outside of game play, the team enjoyed bonding with players from other states at the regional tournament. They shared a bunkroom and bathroom with a team from Utah.  After Utah was eliminated, their team covered the barracks with signs and posters to wish Issaquah good luck.
Gracie and Molly Shea are excited to build similar friendships with new teams from different corners of the United States and abroad. Issaquah will play against teams from Southern California, Texas, Virginia, Connecticut, Maryland, North Carolina and Missouri as well as international teams from the Philippines, Czech Republic, Canada and Puerto Rico.
"This is a once-in-a-lifetime opportunity," said Nicole Garvey, mother to Molly Shea. "We want to make this experience special."
Ahead of the world series, the team will fly to North Carolina for all new uniform and gear fittings as well as opportunities to meet players from other regions. The tournament takes from Aug. 9-15.
The team is asking for donations to help offset travel costs for families. To donate, visit the GoFundMe page. Any funds that exceed travel costs will be donated to Issaquah Little league to improve the softball program.
"Thanks for all the support," Molly Shea said.