Welcome back to my article series about my family's year-long, worldwide trip! In this article, you can read about our trip to South America, which I loved because of its character. I feel like South America has kept its culture and has not become touristy – it is still unique and different from any other place in the world.
South America is not perfect, but that is okay and that's part of why I liked it.
Morro de São Paulo, Brazil
Our first stop was Morro de São Paulo, Brazil, which is a little island off the northeast coast of Brazil. Morro is a very small town. No cars are allowed on the island, so it is always very peaceful. The water was a brilliant turquoise blue and was never cold. Every day we would walk (or for me, skip) down to the beaches and have an awesome day.
Morro de São  Paulo has five beaches. "Second Beach" was the ultimate party beach and, by far, my favorite. People were always partying, laughing and having fun. There were restaurants along the beach that provided needed shade and were a good place to get piña coladas and coconut water. Also, there were courts for a Brazilian sport called futevólei that was fun to watch. Futevólei is like volleyball but played with your feet.
I think my parents liked "Fifth Beach" the best. Fifth Beach was very long so we never explored all of it. At low tide, a tide pool formed and there were tons of different kinds of fish in the pool. They would swim around you and you could feed them. My mom and I once explored further down the tide pool. When we reached the end, we realized there were two little silver fish swimming around us. We started heading back. I turned around to look back and, to my surprise, the same two fish were following us! They followed us all the way back to the start of the tide pool. At some parts of Fifth Beach, the water temperature was blazing hot like a hot tub. There were also horses pulling carts, galloping across the beach.
Santiago, Chile
My family debated a lot about whether to go to Santiago or if we should rewrite our plans. This was because there were violent protests in Chile. Santiago is the capital city, so that was where the violence was mainly happening. After much going back and forth, we decided to go. Changing our plans would have meant losing money to go somewhere else. Also, we had made plans to meet up with my grandparents there.
We boarded the plane on the morning of October 22. It all seemed peaceful when we arrived. Our Airbnb host said we would be fine in our neighborhood, which was good news but not enough to completely forget we were in a war zone. The president had called a state of emergency; we all still had doubts. I don't think any of us slept well that night. Thoughts of violence, corruption, and lack of food all nipped at us in our sleep.
All the streets were somehow marked with the presence of the army. On some streets, large groups of men in full body armor and large rifles stood like statues that could awaken in seconds and everything would turn into chaos. We saw vehicles transporting prisoners, and other vehicles that sprayed throat-burning tear gas that made you enter a world of misery. The last vehicle sprayed high-blast water at people.
One day, with my grandparents, we decided to go to Valparaíso. We had lunch there and then got back in the car to go back to Santiago. We started driving along one road in Valparaíso. We stopped at a traffic light, and I turned to look out of the window. Every other person was wearing a mask. I knew something was wrong.
I learned what masks meant – people who wore masks expected tear gas and violence. They wore masks so that the tear gas maybe wouldn't hurt so bad, and the masks would cover their faces so no one could see who they were.
As we pulled up to a large intersection, everyone in the car knew what was going on. Car horns beeping, pots banging and people chanting – these were all signs of a march happening, and we were right in the middle of it. Out of the corner of my eye, I saw the water cannon. People near it were fleeing everywhere, but most people just went on chanting. The pots banged in my ear. My dad, who was driving, said this was not good and we had to get out of there. People started to pick up rocks. Expecting the worst, I closed my eyes and lowered my head below the window. Finally, we maneuvered out of the large mass of people and sped down the road.
The television news was one of the primary ways we saw the destruction. On the last night of our stay, my mom and I sat transfixed in front of the TV, the news blaring on about the fire that we could see out our window. A subway station and a supermarket were set on fire, along with lots of other important buildings. We could see the red glow of the subway station and it looked even worse on TV. We watched stunned by the horribleness of it all.
The Atacama Desert
We survived Santiago and made it onto the plane to the Atacama Desert. We arrived with high expectations of stars, sand, salt, big rocks, and sun.
One of the cool things we did was to go to a planetarium. We walked into a room and took turns looking through a large telescope. That is when I saw it: Saturn. I peered through the scope: a milky cream-beige dot and around it, almost like a halo, there was a crisp solid ring. There are actually more rings around Saturn, but the telescope was not powerful enough to see all of them. Instead, all the rings looked like one. The ring was only about the size of my pinkie finger on the telescope, but it took my whole mind to process what I was looking at.
Buenos Aires, Argentina
After the Atacama Desert we headed over to Buenos Aires (BA), Argentina. While there is so much more to BA than what I will share with you here, I am going to highlight how great the food is in this awesome city.
The steak places do not really cook the inside of the steak very much, and the first steak place we went to set their pride on that. They cut the steak with a spoon! Another place my dad adored (and my mom and I also liked) was a place called Chori. No surprises here – they made chori sandwiches. They were delicious. The next place is in the category of "you must, must, must eat here at least once!" This place is called the Gran Dabbang. Every spice, sauce, and herb fit together like a song or puzzle pieces. This is a place you cannot skip if you come to BA. Now, say you need something to fulfill that hope of a refreshing treat. Then, you should definitely check out Valence Ice Cream. I got mint-ginger lemonade ice cream. I strongly recommend this flavor.
Iguazu Falls, Argentina
After a visit to Buenos Aires, we flew to Iguazu Falls. When I first saw the falls, I stopped and stared. The water cascaded downwards, struck the bottom hard and was launched into the sky, creating a refreshing mist. The falls were as large as two football fields. All the water in the falls, below the falls, and above the falls was white with froth. At the second lookout, we were down by the lake looking up at the falls instead of looking down. It looked like something out of a dream. The falls was enormous. After the white, there was turquoise blue. There was a little island in the middle of the lake that had a blanket of trees and bushes in all shades of green. As if it could not get any better, there was also a bright, shining rainbow that stretched over the falls and the little island. I made a mental camera in my mind and made a "click" sound with my teeth, wanting to preserve it in my mind forever.
Patagonia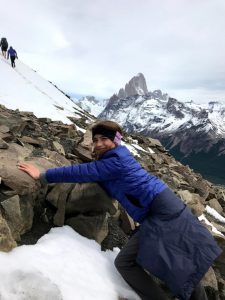 After Iguazu Falls, we headed down to Patagonia and its snow. El Calafate was our first stop in Patagonia. El Calafate is the town nearest the Moreno Glacier. On the first day, we drove down to the glacier. As the big blue-white mass peeked over above the hills in the distance, an excited squeal exited our mouths. The glacier was incredible! If you were lucky, you could see a large chunk of ice plummet into the water, creating an enormous splash! As the sun squeezed its way out from the clouds, it would shine through the ice, making it look even more blue and chilling.
There was a little town called El Chaltén, famous for a tall, skinny mountain that towers over the already small town, making the town appear miniature. There are several trails and treks you can take to get a picturesque view.
During one of our hikes, we had to climb a practically sheer cliff that was covered in snow. My heart was pounding so loud it felt like it would pop right out of my chest. We made it though, and it was surely a hike I will never forget. The hikes were great until you got close to the end, then you just felt like collapsing onto the ground. My feet felt like they were being stabbed every time they touched the earth. As soon as we stepped inside the Airbnb, I fell to my knees. Walking on my knees for the rest of the afternoon was my go-to way to get around.
South America was fantastic! Join me next month to read and learn about our travels in Asia.
Update March 20: Maia and her parents took one of the last flights out of Morocco on March 15. They are adhering to the national lock-down in Spain.