When I joined the Issaquah Highlands Community Association (IHCA) Finance Committee about ten years ago, I had just opened my insurance agency. Two of my kids were at Grand Ridge Elementary, while another was in Pacific Cascade Middle School. I saw joining the Finance Committee not only as an opportunity to give back but also to better understand our new community.
After moving from New York City, Issaquah Highlands was as far as we could get from the life we knew in both distance and culture. Here, restaurants close by 9 p.m. on weekends, and there is no Neapolitan slice, toasted garlic bagel, or chi siu pork in sight. While the pace is slower, the sky is clear, the air crisp, the mountains snowcapped, the neighbors friendly, and the neighborhoods immaculate.
Over the past ten years, I have served on the IHCA Board of Directors, the Highlands Council Board of Trustees, and the Highlands Fiber Network Board of Directors. As one of the very few people who has served on all three boards, I try to be the glue to bind the organizations together. What have I learned over the years? First, the community structure and budgets are far more complicated than any homeowner can fully appreciate. Second, because of the sense of community, excellent schools, goodwill, and the fact things are simply well-managed, folks are willing to pay a premium to live here.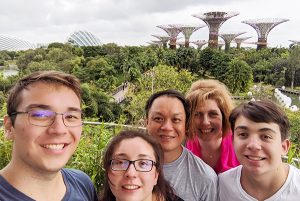 Time does fly, and in a blink of an eye, my kids are young adults. Though they have their roots in New York City, Issaquah is where they call home. They are now a Cougar, a Husky, and an Eagle who has some big decisions to make. (See photo of David with his family.)
To the staff of the IHCA, Highlands Council, and HFN: thank you for all you do. I wish the community could see the tireless efforts you put forward every day. To my fellow volunteers, I also thank you; there is no pay or glory. Our community's bylaws require residents to participate in the process, and even with families and jobs to occupy your time, you step forward.
I do not know about the rest of you, but how about when COVID is behind us, and it is safe we throw a big neighborhood block party?
David Ngai is the Highlands Council Board of Trustees Treasurer, a member of the HFN Board of Directors, and an Issaquah Highlands resident.