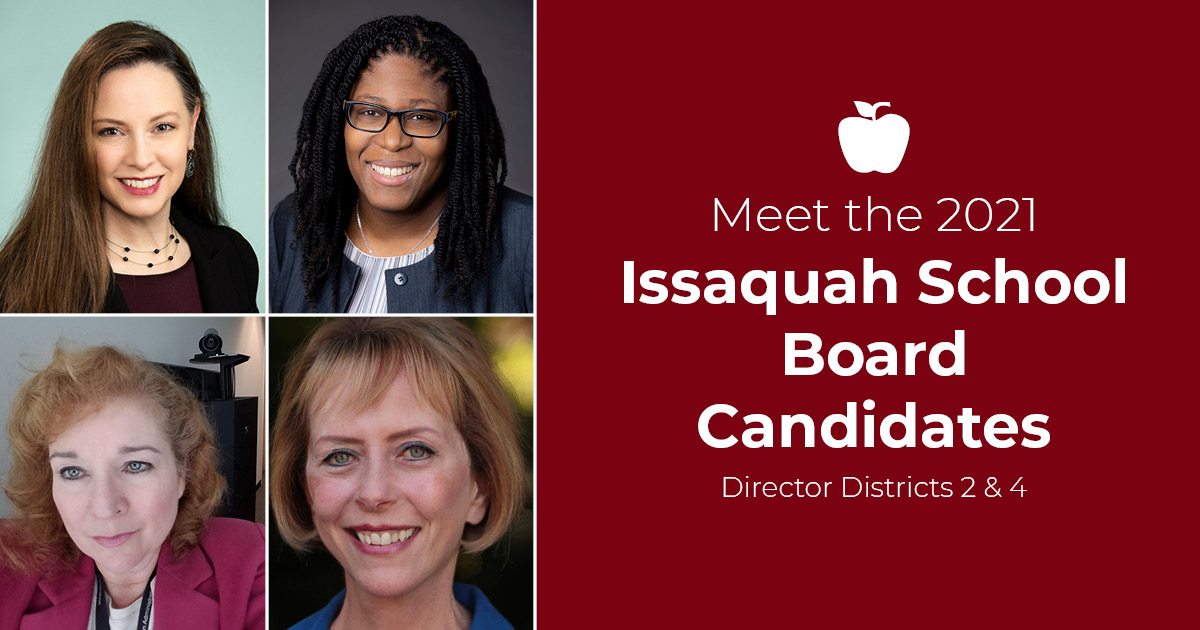 Issaquah School Board Director District No. 2
Marnie Maraldo
This past school year has been full of obstacles to learning, creating larger disparities between students who have access to educational supports and those that don't. We know that in-person learning is the best way for students to grow academically, socially, and emotionally. As president and now past president of the board, I helped lead the board's diligent work to return students to school buildings, while following all the guidance to assure the safety of students and staff.
Over the next few years, we will need to focus on recovery and restoration. Students will need to recover from the academic and emotional loss of the past year. Restoration will require we focus our attention to the needs of each student to determine any gaps in learning and make a plan. We also must support them as they recover socially and emotionally from all that this pandemic has brought to them.
Beyond the needs of students, our staff will need to recover from a year of constant changes. And the board will need to restore the trust from the community, knowing that students are at the heart of what we do. I humbly ask for your vote to continue in this work.
Robin Poe
Education is essential for students to become productive, successful adults in a modern society. In modern society, I see the necessity of STEAM (Science, Technology, Engineering Arts and Mathematics) education as a major part of the curriculum.
Current events have shown that effective communications skills, both writing and speaking, need to be fostered with an emphasis on coming to a rational and objective understanding. Ethics, logic, and reason (in the Aristotelian sense) should be the basis for all educational subjects.
The innocence of childhood should be preserved and any health education concerning sexual or reproductive health should be taught only in middle school or higher. Sex education should be focused on the biological sciences and avoid speculative discussion on social aberrations. An opt-out may be requested by parents.
I believe we should respect the rights of the parents concerning the health and well-being of the student. Schools should not impose health mandates that go beyond the constitutional or human rights of the person.
Students should learn to uphold traditional American values based on natural law and the Constitution, as practiced by the Founding Fathers. All curriculum that promotes cultural Marxism or other communist principles (such as Critical Race Theory) should be removed.
Issaquah School Board Director District No. 4
Dr. Wendy Ghiora
Learning is one of the most important journeys in a student's life. As a retired principal and teacher, I have a passion for finding the key to every student's success. During COVID, many students and parents felt frustrated navigating the remote learning lessons. Though teachers made a valiant effort, many of the students who were already behind fell further behind.
The school board's collaborative relationship with staff and parents through strong communication makes student success a community goal. This year, students must feel safe and welcomed into their classrooms. Through academic rigor, we must catch students up and then leap forward with the joy of knowing they can and will reach their academic goals. High student achievement, with an eye toward continuous improvement, is imperative.
School is where all children can literally make their dreams come true. An excellent education is when we teach children how to think, not what to think. A student who is curious and explores many ideas and viewpoints is using critical thinking skills and will be well prepared and inspire others to think for themselves. We are teaching our country's future workers, leaders, and scholars. We owe them the very best!
Sydne Mullings
I believe in exceptional educational experiences for all students. I am an Issaquah Highlands resident, mother of two students in the Issaquah School District, and a marketing leader at Microsoft. It has been my honor to serve our community as an Issaquah school board director since 2019. My commitment to our district and its youth is grounded in the principle that transparency and increased engagement with families and community members are critical.
During my school board tenure, my focus on listening to and incorporating differing perspectives into decision-making has been strengthened. Throughout the unprecedented pandemic, I worked with my board peers and district leadership to overcome challenges and ensure the delivery of high-quality education with sound financial management. My goal looking forward is to retain and reuse all that we have learned and emerge even stronger as we return to safe, full-time school reopening.
I believe that public education plays an important role in developing our young people to become thriving members of society. I pledge to continue doing the hard work needed to support our children's academic success and social-emotional growth. Please visit VoteSydne.com to learn more about my top priorities, background, and upcoming events.