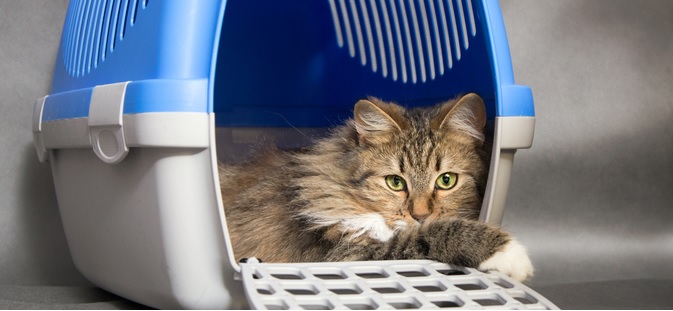 7:15am – The condo building fire alarm interrupted our quiet breakfast this morning with a jolt. At first, we thought we had simply set the smoke alarm off in the unit. Our distress quickly elevated as we realized it was an all-building alarm. Rob and I ran around in circles unproductively calculating what we needed to grab on our way out the door.
We could not find the cat carrier but were determined to take our tabby with us. After finding her under the bed, I dragged her out scratching and howling. Both our efforts were required to stuff her in the now found carrier, after which I knew my time was waning and I had to get out of the building. With no shoes near the door, I put on Rob's slippers. This forced him to go looking for a pair of shoes.  Ready but not leaving, I am waiting at the door for Rob since there is no way I am going to leave a burning building without him. Others had already passed our door on their way out. Time was ticking.
The building was not on fire. Something else triggered the alarm. But this morning was a shocking reminder that we were not prepared for an emergency.
I was reminded that Connections' monthly emergency preparedness columns should have taught me to be ready for this occasion. Provided by volunteer writer, and resident CERT Team 9 member, Amanda Keverkamp has laid out in simple monthly fashion, easy ways to increase you and your family's preparedness.
Amanda's March 2019 column about preparedness kits is the one I am returning to this morning. By the end of today, I will have a backpack at the door, and a pair of shoes, ready to grab-and-go next time the alarm goes off.
Honoring Fire Safety Month,
Nina Milligan
Highlands Council, Starpoint Resident
You can read Amanda Keverkamp's 12-month preparedness series in Connections, inside the back cover of each issue. See all past issues online here: https://issuu.com/ihconnections
Image of cat in carrier source from the Centers for Disease Control and Prevention (CDC).