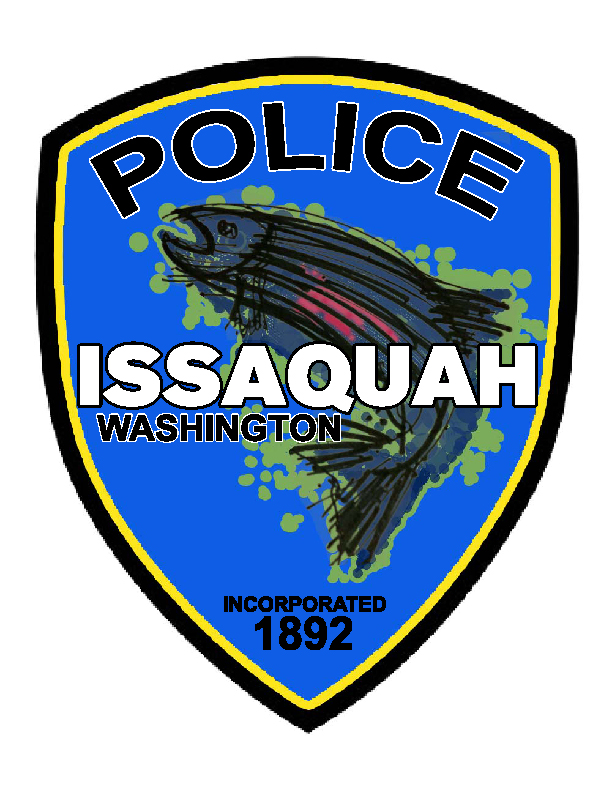 By Nina Milligan, Communication Manager, Highlands Council
Approximately 50 people turned out for the Issaquah Police Department (IPD) Town Hall at Blakely Hall on Thursday evening. Three officers from the force spent a solid 2 ½ hours presenting and answering tough questions from the audience. Community Resource Officer Ryan Smith ran the meeting. Commander Bob Porter and Commander Ryan Raulerson shared details from their expertise with the force.
In the audience were Jim Young, our IHCA President of the Board of Directors, Christy Garrard, Executive Director of Highlands Council, and Bill Ramos, Issaquah City Councilman. Many attended as concerned parents, several as concerned drivers and all as supporters of the IPD showing thanks and a desire to work with our officers to solve the problems we face.
Thought this post does not represent the full the depth of information the officers brought to the town hall, it does provide several few highlights:
Link to presentation slide deck:  ipd-town-hall-160311
Topics we asked about:
Shady Solicitors at Your Door: For-profit solicitors must be permitted by the city. They undergo a background check and will be wearing an ID badge. (Non-profits don't need a permit.) Commander Porter implores, "Don't be a victim. Talk through the door first. If it doesn't feel right, just shut it down."
Traffic Safety: Commander Raulerson declared that traffic is the most frequent complaint the police department gets. Attendees cited speeding, inability to safely cross the street, late night drag racing and other concerns. The officers asked us to report violations that we see, providing a car description and the license plate number. They can't issue a ticket based on a call, but they can find and talk to a person. Regarding driver cell phone use and texting, "Inattention is a frequent citation; we enforce it when we can see it," assured Commander Raulerson.
Grand Ridge Drive as a jurisdiction: What happens when trouble makers or people involved in crimes escape into Grand Ridge Drive (King County property). Issaquah police can pursue perpetrators across the county line, but they would call the Sherriff's office to come in and make any arrests.
School Zone Enforcement: A young Cub Scout stood up and asked, "How do you protect us when we are walking home from school?" Officer Smith replied, "We try to be at the schools when they need us." The police presence helps. But he also said that kids can stay safe by following their parent's instructions to stay on the sidewalk, not to cross the street until it is safe, etc. There was much interest in getting a traffic safety camera for the Grand Ridge Elementary School zone like the one at the schools on 2nd Ave.
Monday, November 8th, 2016 at 7:00pm City Council will consider postponing installation of Traffic Safety Camera System at Grand Ridge Elementary.
https://issaquah.civicweb.net/FileStorage/CCA9D5F71F5F483DB081F568E29D39CD-AB.pdf
If you wish to voice an opinion, you must do so at the beginning of tonight's meeting, during Audience Comments.
Sign in on the sheet as you arrive at Council Chambers.
No Parking on College Drive: A resident reported that some people have been parking along College Drive, though parking is only allowed in the angle parking off the road to the north above the trail to the school. Officers confirmed that it a citable offense, and very dangerous.
Kids Hanging out in Central Park: Just hanging out is not a crime. But if you see underage drinking, smoking or vaping, call the police. And the park closes at dusk.
Traffic Enforcement (i.e. No Turn on Red): A resident implored the officers to please stake out our few "no turn on red" signed intersections and to enforce this rule. As these intersections involve blind corners, allowing violations is dangerous, especially to motorcyclists (and cyclists).
Community Task Force: A resident on 25th Ave NE suggested that concerned neighbors could create a Highlands Safety Task Force with the purpose of educating all residents (and visitors). To the officers attending, he said, "You work hard. We are just here to help."
Who do you call?
911 – in any emergency, on-going incident, or when in doubt whether to call 911 or not
425-837-3200 Non-Emergency Line, but when you would like to talk to someone
425/837-3210 Tip Line, to leave a recorded message about a non-urgent matter, anonymously or not
Did you know?
We have a Community Resource Officer dedicated to serve as our liaison between with the police department. Some of us met him at Highlands Day as he helped with crowd and traffic control, Ryan Smith facilitated Thursday's meeting.
When you call dispatch at IPD two people are taking care of your call simultaneously. While the person you are talking to asks questions to get more details about the incident or emergency, the other person is contacting, directing and informing the officers en route.
Medicine Disposal: Prescription drug abuse is increasingly a problem among teens and adults alike. IPD offers a safe way to dispose of expired or unused drugs. See the green drug bin conveniently located in the department's lobby at City Hall, 130 E Sunset Way.
Although the Highlands make up about 1/3 of Issaquah's total population, our community accounts for less than 20% of the vehicle collisions.
Although Issaquah's population is 33,000 we have a population of about 60,000 during the day because of all the people who work here.1
Of the 63 employees1 in the police departments, 37 of them are patrol officers.
There are only 3-6 officers covering the entire city at any given time, working 12 hour shifts
 "Inattention" is the most frequent traffic citation they write up. Commander Raulerson admitted it is hard to catch people on the phone, but "we enforce it when we see it!"
Ryan Raulerson encouraged all of us to keep in touch with the police department and to call one of the numbers above whenever we have something to report. "You are our eyes and ears!"
Sorry you missed it? Watch your Issaquah Insider e-letter for the next Coffee with a Cop for a chance to get your questions answered, or just to say "thank you".
1 From the City of Issaquah Police Department webpage