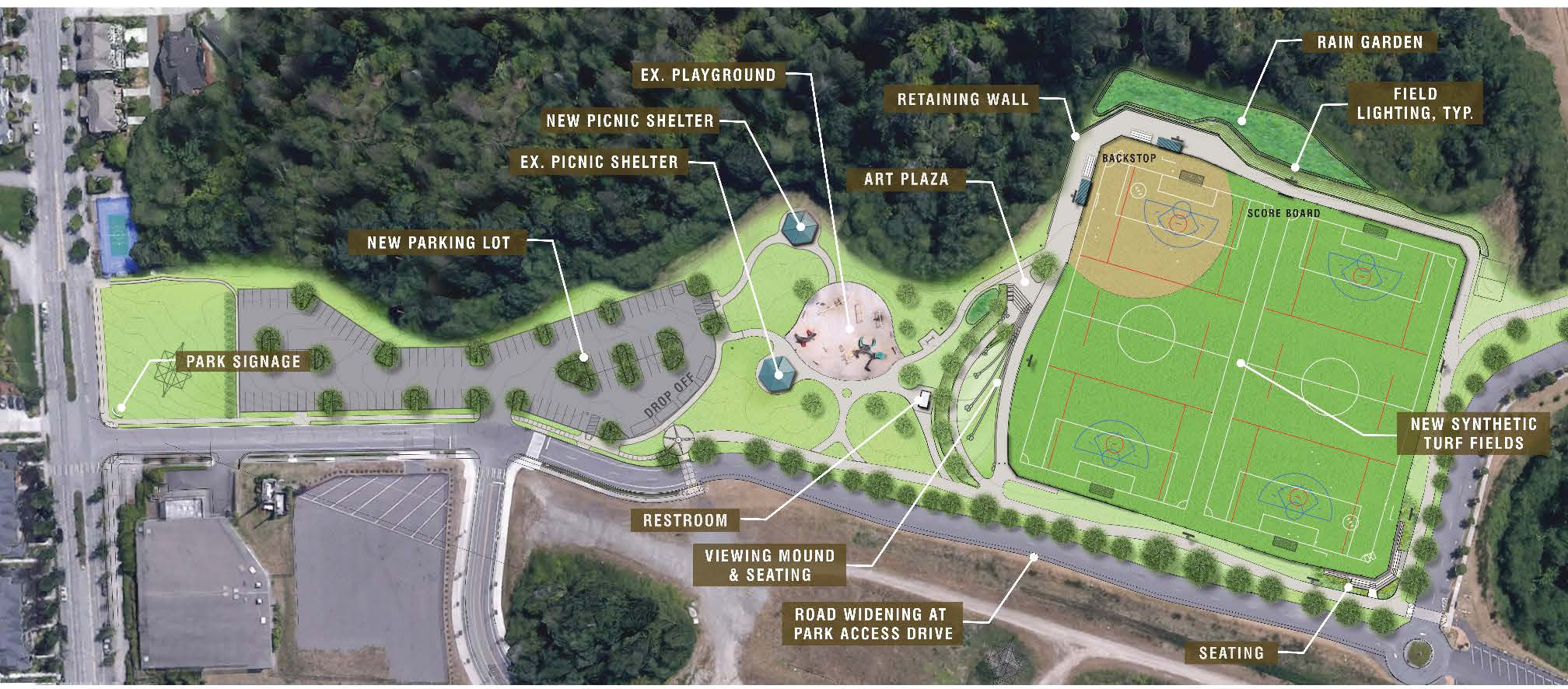 The Issaquah City Council, Services and Safety Committee met tonight in Council Chambers. On the agenda was Central Park 2017 planned upgrades. What has been referred to as the "base" project was funded in the regular budget. But when the Parks Department reported to the full City Council on May 2nd, there was not only additional funding needed to cover the "alternate" features, but there were also higher costs for the base project.
Base Project
Artificial Turf Field
Metal Halide (HID) Lights
PSE Electrical
Interim Parking Lot Lighting
Alternates
LED Lights Upgrade
Road Safety Improvements (widening parking)
2nd Picnic Shelter
Amenities / Site Furnishings (i.e. soccer goals)
Mound walls / Plantings
City Council referred the matter to the Services and Safely Committee, who heard more details tonight on costs and funding. Several members of the community spoke, including Peter Kim of Issaquah Highlands and the Issaquah Soccer Club. Repeated by the speakers was the need for the road widening for safety and for the LED lighting upgrades.
Councilmember Mariah Bettise kicked off the deliberations by sharing, "I've been out there in the dark, in the rain, with kids running everywhere… I think the road widening is important." And without declaring a preference on how to cover the increased costs, supported the project by closing, "I'd really like to see it all built out [at once]."
Committee Chairman, Councilmember Tola Marts leveraged Bettise's comments saying he too would like to recommend funding the entire project as proposed, going on to say "bookend 1" in the Parks Department's proposal was his preferred option. This option uses the General Fund ending balance to cover the additional costs. "The community has shown ample support for this project." And the General Fund is intended for such one-time costs. (The General Fund ending balance is almost double the amount required by policy.)
The two members present agreed to recommend to fully fund the Central Park upgrades, including all the alternates, to the full Council at their May 15th regular meeting.
Follow the topic further in the June issue of Connections, featuring our Parks and Trails.