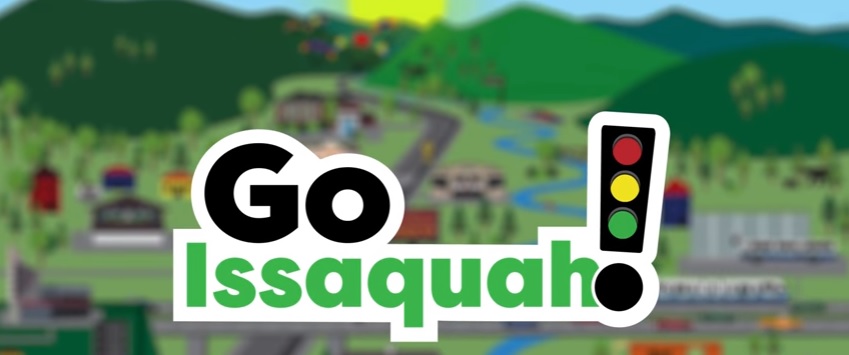 By Nina Milligan, Highlands Council, Communication Manager
Last night at Blakely Hall, City of Issaquah Deputy City Administrator, and Issaquah Highlands resident, Emily Moon provided an in-depth progress report on the City's efforts to "tackle traffic" in Issaquah. She began her presentation by going back in time, summarizing several of the reasons for increased traffic on Issauqah's roads and for overdue upgrades.
Local neighbors

for instance, growth in Sammamish and Maple Valley

Location and topography concentrates growth and traffic in Issaquah

on and separated by a major interstate freeway, surrounded by mountains and water

Past community decisions

for instance, deciding not to proceed with proposed S.E. "By-pass" to Front Street

Region's desirability

economic and housing growth is expected to continue for years to come
"The City is tackling traffic in many ways," Moon explained. One significant example Moon cited was the City Council increasing developer's impact fees in 2015. Moon emphasized, "The City more than doubled our traffic impact fees." Impact fees pay for infrastructure improvements identified to accommodate future growth.
Another focus for the Administration and Council is safety. Moon explained, "We spent almost a full year studying our pedestrian crossings." The 2015 Crossings Study resulted in the City Council budgeting $820K to enhance safety.
Other significant measures presented were:
Regional projects including supporting ST3 and partnering with King County to study the Front Street – Hobart Road corridor
Walk 'N' Roll plan, a comprehensive approach to increasing transportation options for pedestrians and bikes
Local projects, such as $50M in road improvements in N. Issaquah most of which is funded by grants and developer contributions
Recognizing that even these measures were not enough, in 2015 the Mayor appointed a Traffic Task Force. Among the Issaquah Highlands residents serving on the Task Force were Jim Noel, Traffic Task Force Chair (and now a member of the IHCA Board of Directors) and Geoff Walker (Vice Chair of the task force and also Chairman of the Urban Village Development Commission). The Task Force studied and reported findings and recommendations to the City Council earlier this year. They employed several criteria:
Where are residents having difficulties?
What projects can we do with local funds?
What has visible impact?
What has strong community support?
What can help pedestrians and cyclists?
How do we meet "level-of-service" goals?
To these criteria, the council added their own and narrowed the task force list of nine projects down to four Local Projects:
East Sunset Way
Newport Way, 54th to SR 900
Newport Way, Maple to Sunset
Providence Point Signalization
The projects are in various stages of design and have a range of anticipated benefits, including reducing travel times, enhancing safety, and adding bike lanes and sidewalks.
This draft list of projects totals about $49.5M in costs which could go to Issaquah voters this November as a bond measure, likely levying through increased property taxes. The City Council is scheduled to make its final deliberations and decision at its regular meeting on Monday, July 18. If you wish to weigh in on this subject, contact the city council or stand up to speak at the meeting on Monday, July 18th. If the Council approves the list, the dollar amount and the timing of the ballot measure, citizens in Issaquah could vote on this in November 2016.