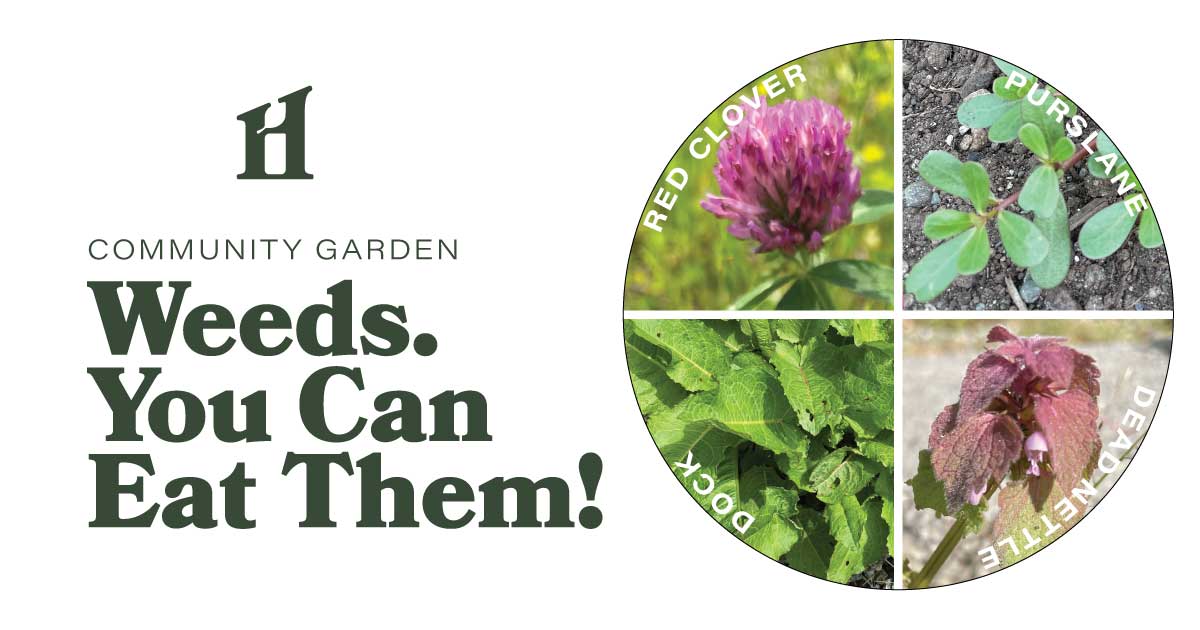 When I first started gardening at Vista Park, I noticed a bunch of plants always creeping into my plots. At first, I found them quite annoying for taking space and nutrients away from the crops I planted.
Until one day, I went on a foraging excursion and the botanist pointed out some of these weeds were actually beneficial and edible. Here's six of those weeds that I have found in or around my plots: dandelion, dead nettle, red clover, dock, plantain and purslane.
Dandelion:
You probably know these pretty well. They are wonderfully magical plants! Dandelion leaves and flowers make a great addition to salads. Additionally, the roots can be roasted and made into a tea. The flowers can also be infused in vinegars and oils.
Dandelions are a great source of vitamins A, C and K as well as minerals folate, potassium and calcium. Just be careful not to overload eating them, they are a known diuretic.
Dead Nettle:
I started seeing these all over my plots in the spring this year. They resemble stinging nettles with their leaf formation, although they have multiple purple flowers on top and they don't sting like their relatives.
You can eat the leaves as you would any leafy greens: on salads, in soups and smoothies. The leaves are high in vitamins C, A and K as well as iron, calcium, magnesium, manganese and fiber.
Red Clover:
Outside our garden, I recently harvested a field of red clover. They are more distinct in their red flower heads than the common clover, but they are sometimes found together.
Red clover flower heads make a great tea—you can just steep them in hot water. The leaves are edible and can be eaten raw or cooked. In general, clovers improve soil quality with their nitrogen exchange. It's a good source of vitamin C and iron.
Dock:
There are multiple types of dock that spring up in our plots and in the walkways. All are edible. Dock and sorrel plants are in the same family. They have broad leaves; some varieties have curly edges.
You can use dock like spinach in soups and salads. It's got more bitterness to the taste, which is great for your digestion. I like to use dock as a grape leaf substitute for Dolmas. Dock contains vitamins A, C, B1 and B2 as well as Iron.
If you get stung by a stinging nettle, just find some dock leaves (they usually grow close by) and chew it up to make a poultice to put on your skin where it's irritated. It will usually calm the sting and heal the skin faster.
Plantain:
This plant is great! I found two types growing in and around my plots throughout the years here. One is broadleaf that looks like spinach and the other is a pointier/grass-like narrowleaf.
You can eat plantain leaves raw or cooked like any greens. You can also use plantain for healing any bites or cuts, just chew it up to make a poultice. I've made beeswax salves with this plant to keep around for any boo boos on the kids. Plantain is rich in vitamins A, C and K, in addition to several important minerals like calcium and iron.
Purslane:
This plant was the most delightful discovery in my plot a couple of years ago. It's a succulent with small green leaves and a red color stem that creeps all over the gardens. The leaves and stems are smooth and hairless
The leaves can be eaten raw or cooked. You can add them to pretty much anything, but I like to use them in any gumbos or stews that need a thickener when I don't have any okra available.
Purslane contains more omega-3 fatty acids than any other plant. It also has high amounts of vitamins A, B complex and C. Minerals in these plants are iron, magnesium, calcium, potassium and manganese.
Next time you're weeding in the garden, check to see if you can benefit from and harvest the plant instead of composting it. Download the app Seek for assistance in identifying these weeds.
I love that nature provides free crops all around us, and sometimes they actually land in our own gardens.
Tricia Gray is a Vista Park resident.