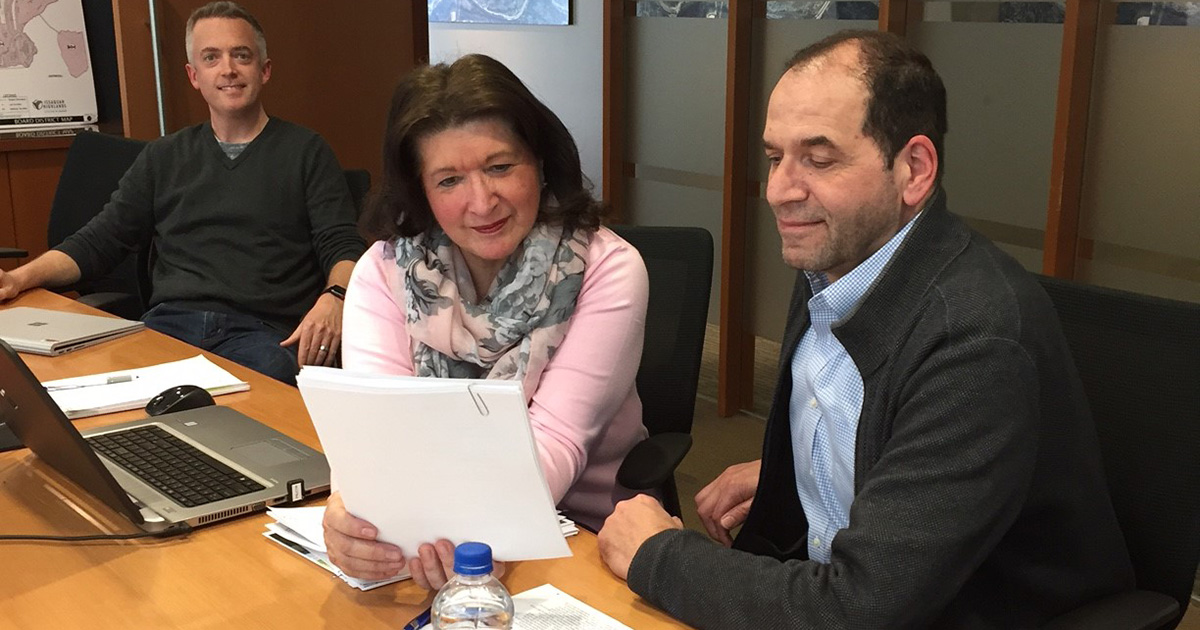 Your Community Management team serves the community in many ways. Primary functions can be broken down into the three sections below:
Community Management
The IHCA Community Managers (CMs) serve all residents in the Issaquah Highlands. They work alongside the landscape, maintenance and accounting teams to ensure operations of the IHCA are running smoothly.
Your CMs work closely with IHCA committees, acting as liaisons to help facilitate monthly meetings and coordinate correspondence and follow-up.
Architectural Review Committee (ARC), consisting of seven members, is managed by Erika North. This Committee reviews owner's applications to make changes to the exterior of their homes or yards.
Over 300 applications were reviewed in 2017/2018 by Erika and the Committee, sometimes as many as 50 applications per meeting.
Covenant Committee, which has five members, is managed by Jessica Dorsey.  This Committee meets monthly to reviews homeowner violation appeal applications.
Managing these Committees entail hours of administration from your CMs. Erika and Jessica work with owners to receive, complete, log and track applications. They create meeting packets and agendas, take minutes, record committee decisions in official records, and finally follow up with owners on applications and appeals. Besides the IHCA committees, CMs also work with neighborhood committees for Crofton Springs, zHome, Dahlia Park, and Grand Ridge Drive.
Finance Committee: One of the greater and more challenging tasks of your Community Managers is preparing the 15 neighborhood budgets on an annual basis. The CMs produce the budgets with input from the neighborhood committees. The annual budgeting process includes several months of preparation, research, meetings, and reviews. The budgets are then reviewed and approved by the Finance Committee and Board of Directors, and finally sent to the owners for ratification. Neighborhood budgets consist of operations costs such as waste management and landscaping, but most importantly each budget includes a reserve fund for neighborhoods' long-term maintenance and capital asset replacement. Your CMs spend many days with the IHCA contracted Reserve Specialist, analyzing every asset in every neighborhood to assure adequate funds are being accumulated in each reserve account with the goal of ensuring homeowners are not hit with devastating special assessments.
Project Management
In addition to general community management, your CMs manage operations, maintenance and capital projects at the 15 neighborhoods. Most of these neighborhoods look and function like condominiums but are legally single-family homes. Some are attached, like the Row Houses on Park Drive at Crofton Springs, and some are detached, like the homes on Grand Ridge Drive. Your CMs manage landscaping, small repairs like trellis staining, and large capital projects like roof and siding replacement. Between these 15 neighborhoods your CMs manage 689 units, 470 of which are attached. Your CMs coordinate maintenance and project calendars, notify owners of work, inspect assets, maintain a network of reliable and trusted contractors and business partners, and carefully balance fiscal responsibility and owner's best interests.
Jessica Dorsey also provides management assistance for some IHCA operations and reserve projects, including drain line cleaning, fence maintenance, and parks and play equipment replacement.
Compliance
The IHCA Board of Directors assigns the compliance department to enforce IHCA standards and rules to maintain the prestigious ambiance our community. After reviewing the statistics from this fiscal year, an average of only 3.2% of homes receive violations each month (out of 3,284). The graphics below provide an overview of enforcement notice statistics from 2017-18.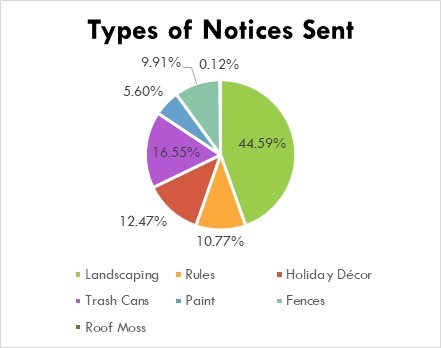 Photo (top): Erika North works with ARC Committee members to review ARC applications.
Erika North: Thank you for over 10 years of dedication!
Please join us as we celebrate Erika North's retirement!
Friday, July 27, 6:00 pm, Blakely Hall
Let's send her off with a moment of gratitude for all her efforts. We look forward to seeing you there. Light refreshments will be served.