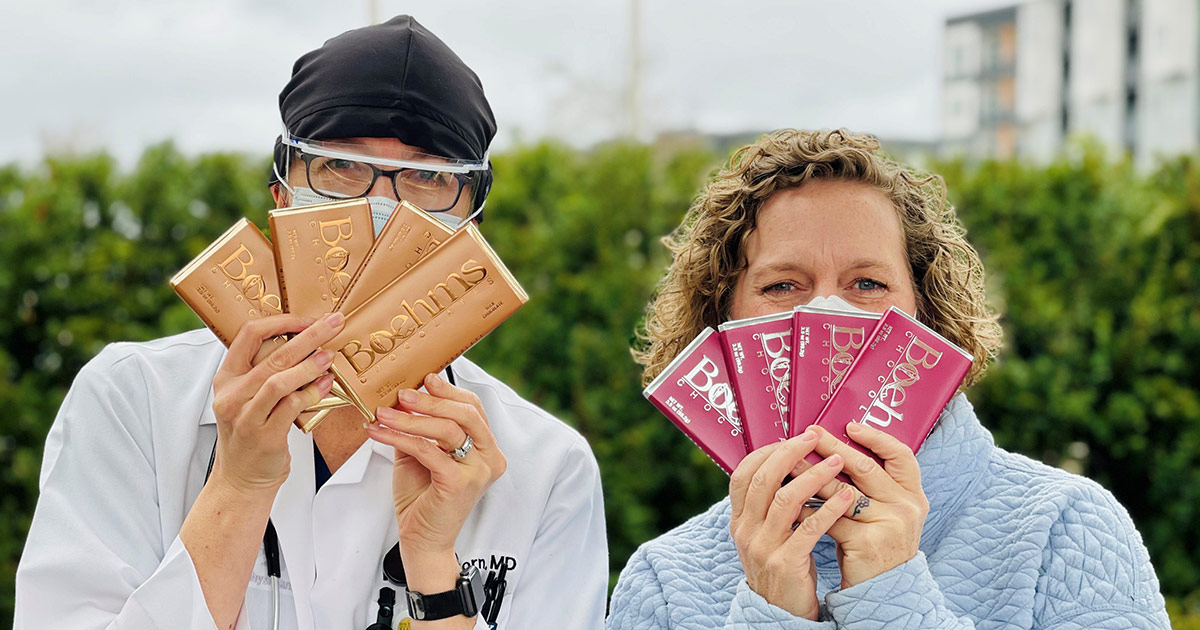 In a virtual awards ceremony last week, Central Park resident, Michelle Enebo, was awarded the 2020 Community Hero Award by the city of Issaquah. Highlands Council nominated Michelle for the award in recognition of her extraordinary efforts to raise money to provide Swedish Issaquah staff with meals and snacks from local businesses during the pandemic crisis.
Last year, Michelle shared her story with Connections, published in the May 2020 issue. In that story, Michelle recounted how her widely successful GoFundMe project got started.
I first thought of the idea when I was scrolling through Facebook and saw that a caterer was doing a fundraiser to make a meal for Swedish Edmonds. I thought, "I have a Swedish right around the corner from me and I'd love to help them!" I also thought that paying all the hard-hit restaurants in the area would be helpful, too.
I began by contacting Dr. Jennifer Spence at Swedish Issaquah. She has been my doctor for at least 15 years. I reached out to her first to see if I could start such a program. She put me in contact with the head of the ER and the head of the ICU.
I honestly thought we would raise $5,000 and I'd organize a few meals and that would be that. I can't believe how much it took off. The big push was from our super supportive neighborhood, but the project was also shared all around Issaquah and the Eastside. There have been donors from all over.
Everything I'm doing is from my couch or home office. I schedule meals and reach out to the hospital staff when meals are delivered. Most deliveries are done by the restaurants themselves to keep the most people at home as possible. The restaurants are all so thankful for this opportunity.
The Swedish staff has all been so happy, too. The feedback from the staff at Swedish Issaquah has been incredible. They are so appreciative of all the support from the community. The meals make their hard jobs a little easier.
Since her project started, Michelle has arranged 4,725 meals and 2,825 snacks served at Swedish Issaquah, made possible by 880 donors and $67,000 in donations. Fifty-five restaurants have participated, including many Issaquah Highlands restaurants: Zeeks Pizza, Ben & Jerry's, Agave Cucina, Bai Tong Thai Restaurant, MOD Pizza, Chinoise Cafe, Habit Burger, Starbucks, and Pinkabella Cupcakes.
"People donate what they can," Michelle told Connections last year. "I think the response from the community has been so great because they love the hospital, and it's one of the few ways we have been able to make a difference while maintaining social distance."
As of this week, Michelle has used all the donations from the project's GoFundMe account, delivering the last snack paid for by the fund on Thursday, February 4 (chocolate bars from Boehm's Candies). Michelle will still collect donations for Swedish Issaquah via her GoFundMe.
"I will organize snacks as long as the money is there," she said.
While Michelle is grateful for the recognition as a "Community Hero," she believes the real heroes are the frontline workers and the community members who support them.
"The army of donors helps remind those frontline workers how much we appreciate them, and the restaurants have continuously gone above and beyond with food and notes," Michelle said. "It has been the most fulfilling project to work on."
Photo (top): Michelle (right) with Dr. Brenna Born, M.D., director of the emergency room at Swedish Issaquah who helped distribute donated meals through Michelle's GoFundMe to hospital staff. Photo provided by Michelle Enebo.
Vicki Grunewald is Highlands Council media editor and a Harrison Street resident.