By Kimberly Collette, Central Park Resident
From June 2016 Connections News, Culture Through Cuisine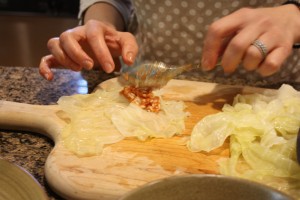 "I always knew how to make cake and tea as a kid. I think that was born into me. But when I got married I called my mom," says Nada Alwarid. Nada's mom taught her to cook and one of her favorite Iraqi dishes to serve is Dolman.
Dolman takes some prep work and is a bit labor intensive. Nada suggests starting it the night before. Dolman is an Iraqi favorite. Rice stuffed veggies are layered in a large pot and simmered in its own juices and water.
Nada was born and raised in Iraq. When she was 16 she and her family moved to Canada. Nada finished high school and University in Vancouver. She later met and married her husband and was recruited by Microsoft and moved to Redmond.
In 2004 Nada and her husband were looking to move. A friend was moving out to a new development that was still in it's infancy, the Issaquah Highlands. "Issaquah? That's in the boonies," Nada remembers thinking. But they drove out and fell in love with the trees and the area and soon were building a home of their own. "We came over every weekend as the house was being built," she says. "We must have driven the builders crazy."
Iraqi food is very protein based and is often served with rice. But Dolman is a vegetarian dish. "Mom used to make it with ground beef but discovered it tastes better without it." Nada finishes hollowing out the veggies. She's going to stuff eggplant, zucchini, tomato, shallots, cabbage and grape leaves. Traditionally green peppers are stuffed but Nada uses Jalapenos instead. "It gives the whole pot great flavor."
Iraqi food uses a lot of spices, but is not very spicy. Cumin, allspice, coriander, tahini, are used often while turmeric and curry are used sparingly. Pomegranate molasses is used and provides a sweet and sour flavor.
Breakfast in Iraq is cheese, eggs, bread with jam or honey and tea. Tea is a very big deal. Lunch is the main meal of the day and people usually head home for the meal. It is stews with rice and salad or chicken kabobs from the BBQ.
The insides of the vegetables for Dolman are not discarded, but rather added to the rice, tomato paste, spices and water. Nada suggests not using basmati rice as it tends to dry out. The mixture is then stuffed back into the hollowed veggies. Fill the big vegetables first about ⅔ full.
Nada layers the eggplant and zucchini first in the pot. The smaller vegetables go in next and then the leafy stuffed ones last. The pot is filled with lemon juice, oil and water. Nada places a heavy plate on top of the Dolman to keep it all down and it cooks on the stove.
The dish is warm and comforting. The stuffed jalapeno is the most spicy but it lends its flavor to the whole pot. All the prep and work that goes into this traditional Iraqi dish is worth it with each savory bite.
Dolman Recipe
Core
1 eggplant
3 small zucchini
1 tomato
2 shallots
4 jalapenos
Filling
2 ½ cup uncooked medium of jasmine rice
1 T sugar
2-2 ½ t salt (half goes in filling half goes in water)
2 T red curry powder
1 can tomato paste
1 tomato (mushed)
½ shredded carrot
1 ground onion
3-4 cloves garlic
The cores of all the other vegetables
Cabbage and Grape Leaves
Add a little water to the filling to make it easy to spoon and fill the cored veggies. Fill the largest first starting with the eggplant. Fill about ⅔ full to allow for rice growth.
Using boiled cabbage leaves, cut out the thick stem and lay the leaf out flat. Place a little filling in the center, turn in the sides and roll the cabbage closed. Do the same with the grape leaves, cutting out the center stem and rolling the filling up.
Layer the stuffed vegetables in a large pot.   Largest goes in first and the stuffed cabbage leaves and grape leaves go on top. Fill the pot with ½ cup lemon juice, ⅓ cup vegetable oil and fill water to equal 2 ½ cup liquid total. Place a plate on top.
Bring to boil for 5-7 minutes. Remove the plate and turn the heat down to medium for for 30 minutes. And finish with on low for 10-15 minutes. Let the juices settle and serve.