Culture Through Cuisine – Argentina
By Kimberly Collette, Central Park
Mara Welicki and her husband Leon have lived in the highlands for six years. Mara and Leon married in Argentina and then left to live and work in Spain. In Spain their eldest son Daniel, age ten, was born. Then they spent a year in Vancouver before landing in the highlands, where their youngest son Eric, age three, was born.
"Leon and I are from Argentina, Daniel is Spanish and Eric is American," Mara says. When Mara and her family arrived in Vancouver she and Daniel, who was three years old at the time, had to learn English.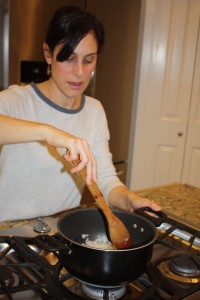 She recalls a story from her first week in Vancouver. She went to Costco to pick up some head and shoulders shampoo. But she didn't know the English word for dandruff. Through charades and a few of the English words a lady in the aisle translated for Mara. "Oh, dandruff shampoo!" and pointed her in the right direction.
"I will never forget the word dandruff because of that," says Mara. She has many stories for many English words. She credits these experiences to her learning English.
Mara didn't meet anyone from Argentina in Vancouver. But she made a very good friend with a woman from Korea. "We learned English together."
Since moving to the Highlands Mara and her family have created a community of friends who are also from Argentina. "They're like family." Their children are growing up together. They go to each other's birthdays and special occasions.
And at these birthday parties empanadas are always served. Empanadas can be filled with cheese and jam, mozzarella, ham and cheese or corn with cream. Today, Mara is making traditional ground beef and cooked onions empanadas.
The meat needs to be cooled before you fill the dough. "I always have the meat done by 1 pm, put the meat in the fridge, and then it's ready to fill for dinner that night."
Mara cooks the onions with simple spices of salt, pepper and oregano. "Everyone has a different way to prepare them," says Mara. The onions turn translucent and fragrant. The meat is cooked until brown. After the meat has cooled, Mara dices up a hard-boiled egg and add some green stuffed olives.
Argentinian food is simple, says Mara. Breakfast is toast with jam or butter, and coffee with milk. The kids get Nesquick and cookies. Lunch on the weekends is a BBQ. Dinner is always the heaviest meal and is often seasoned steak with salad.
Mate, a savory herbal tea, is always served in the kitchen while a meal is prepared. It is drunk through a filtered straw that keeps the loose leaves in the cup. Mara has a collection of mate mugs and straws in her kitchen.
After the empanada dough is filled and the edges are pressed and twisted, she lays them on a baking sheet and gives them an egg wash and puts them in the oven to cook.
For Argentinian parents to both a Spanish and an American son, empanadas are a delicious and warm way to stay close to the home that is so far away.
Empanadas Recipe
Ingredients:
1 pound lean ground beef
2 onions chopped
2 hard cooked eggs, chopped
Salt to taste
1 package of 12 frozen empanada dough
1/4 cup of olives (black or green) chopped
1 Egg to glaze
Directions:
In a sauté or pan pour 1/2 inch of oil and add chopped onions. Cook the onions until they begin to turn golden. Remove from heat.
Place meat in a dish and add salt to taste, oregano and black pepper. Mix and add meat to the onion mixture.
Cook till meat turns brown. Remove from the heat and allow the meat to cool.
Split each dough and place a spoonful of the meat mixture on each round. Add some olives and hard-boiled egg. Avoid reaching the edges of the dough with the filling because its oiliness will prevent the sealing.
Slightly wet the edge of the dough, fold in two, and stick edges together. The shape should resemble that of the half moon. You should have 2/3 to 1/2 inch flat edge of dough to work with.
Seal by twisting edge step by step between thumb and index finger making sure to add pressure before releasing the pinch and moving onto the next curl.
Preheat oven to 350 degrees F. Place Emapanadas on a parchment paper lined baking sheet. Glaze with egg for shine and bake until golden about 20 to 30 minutes.