As seen in October 2017 Connections
A big part of the celebration of Diwali is its food. A famous food item to make is Panjabi Chickpeas (or known as chole in Hindi). My mom makes this every year as her signature Diwali dish, and every year the taste gets even better!
When I asked how she learned to make the Chickpeas, she told me it was a family recipe that was taught to her by her mom, and her mom learned it from her grandma, and so on. The taste always reminds her of her childhood in India. She still remembers how happy she got when she her mother cooked this dish and the aromas filled their home.
My mother is originally from Delhi, India, where cooking chickpeas is very popular, not only on Diwali. Believe it or not, there are over 30 ways to cook chickpeas! Due to their popularity, cooking chickpeas are not hard in America. You can find them in any grocery store.
A dish that is harder to find here, but was one of my mom's favorite dishes was all the sweets she found on the streets of India during Diwali. A big thing she misses from home is the Diwali-themed street food and all the lights the neighbors put up. She also misses her grandma's cooking. Her grandma was the first to introduce her to her favorite Indian food; Dahi Vada, another dish of The Festival of Lights. She says the recipes she uses to make Dahi Vada and Panjabi Chickpeas have changed over the course of her life, due to her forgetting parts of the recipe, and having to change some ingredients because they're not in America. My mom's favorite time of year is Diwali because of all the food, happiness, lights, and that it reminds her of home.
2 cups Dry chickpeas (white choley) soaked overnight
½ tbsp Oil
½ pinch Hing
½ tbsp Anardana powder
½ tsp Red chili powder
2 cups Water
2 tbsp Chana masala powder
Salt to taste
In a pressure cooker, add oil, Hing, and a few seconds later add anardana powder, red chili powder, two cups of soaked chickpeas, 2 cups of water, chana masala powder and salt. Close the cooker. Turn on heat to medium high and after 3-4 whistles, turn it off. Let the steam release. Reserving the liquid, drain the chickpeas.
2-3 tbsp Oil
1 tbsp crushed coriander seeds
1-2 Dry red chilis
½ tsp Cumin seeds
2 tsp Ginger garlic paste
1 – 2 Green chilis, chopped
1 cup Onion diced
1 cup Tomatoes, chopped
Salt, to taste
½ tsp Turmeric powder
Chole Masala powder
1 tsp Garam masala powder
½ tsp Anardana powder
Garnishes/Optional: Onion, thinly sliced; Cilantro leaves, chopped; Tomatoes, thinly sliced; Ginger, finely chopped
Heat 2 –3 tablespoons of oil in a pan. Temper with cumin seeds, dry red chilies and crushed coriander seeds. Add finely chopped ginger garlic paste, chopped green chilies and sauté well. Add finely chopped onion and mix well. Sauté and cook till onion turns soft. Add chopped tomatoes and mix well. Add, turmeric powder, chole masala powder, garam masala powder, anardana powder and mix well. Cook till the tomatoes turn mushy and leave out oil from the sides. Add salt to taste
Add the cooked chickpeas and mix well. Add the reserved water and mix well. Cook in medium flame for 8-10 minute still the water dries up. Garnish (optional few drops of lemon juice).
Serve chole hot with roti or bhatura.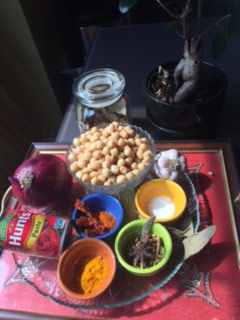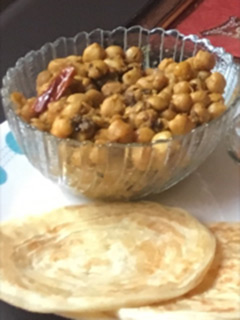 1 cup Gram flour (besan/chickpea flour)
¼ cup Ghee (clarified butter)
½ cup Powdered sugar
5 – 7 Saffron strands, (optional)
¼ tsp Cardamom / Green elaichi powder
Garnishes/Optional: 1 tbsp Sliced Almonds, 1 tbs Sliced Pistachio
In a Kadhai (an Indian cooling bowl), mix gram flour and Ghee over a low heat. Stir constantly to avoid lumps. The secret of the recipe is constant stirring. When it releases an appetizing smell, it is ready. Remove from the heat and allow it to cool. Add powdered sugar, green elaichi powder and mix thoroughly. Then make it into small balls. Place nuts on the top. Mouth-watering Ladoo's ready to eat!