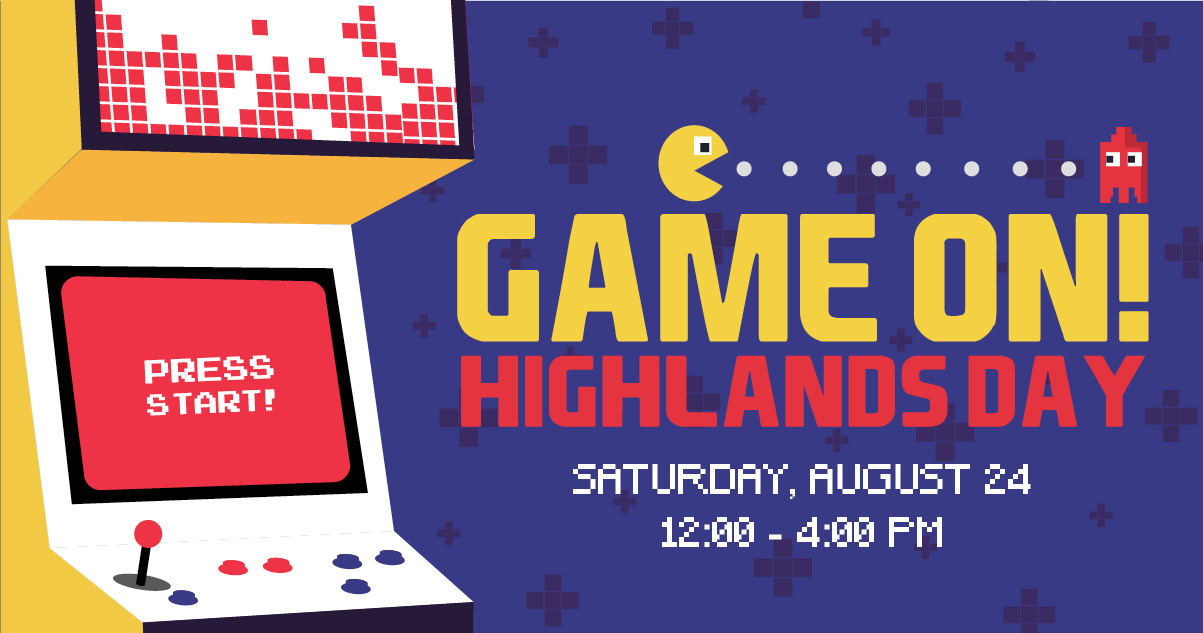 Calling all gamers! We invite you to INSERT COIN, PRESS START, and ENTER our GAME ON! Highlands Day Festival and Community Arcade, Saturday, August 24, 2019. Whether your avatar is young or old, this year's Highlands Day Festival has arcade fun for everyone!
NEW THIS YEAR
Location: High Score Sponsor, Regency Centers, welcomes the Highlands Day Festival to Grand Ridge Plaza! The venue will be located between Regal Cinema and 10th Avenue on the top deck of the parking garage.
Theme: Play the silver ball at a pinball table inside our retro arcade tent.  Or step into our VR theater and explore a whole other world! This year's festival is multi-player! Join your neighbors and friends for a round of human-foosball, billiards or soccer darts! These are the fun new features of this year's community celebration made possible by the generous support of High Score sponsors: Candy Mache, The Agency Real Estate, Timberlake Church, Harborstone Credit Union, Highlands Dentistry, Eastridge Church, Issaquah Schools Foundation (community partner) and Safeway.
Game Shows:  Come on down! Maybe YOU will be the next contestant on the interactive game show stage sponsored by City of Issaquah Arts Commission.
Expanded Shuttle Routes:  This year, in keeping with the retro theme, you can leave the car at home and hop on a school bus for a free ride to the festival. School buses, sponsored by High Score Sponsor, Shelter Holdings, will run a loop up Park Drive and along 25th Ave to 30th Ave and back down to the festival venue.
Get YOUR Game ON!
Vendor Booths: Cash in your tokens and submit your booth application today! Deadline is August 1 or until sold out.
Get Involved: Great benefits, including a commemorative t-shirt, meal voucher, and gaming bracelet. 3-hour shifts available for all abilities. Must be age 14 or older to volunteer without a parent.
For more information visit IssaquahHighlands.com/highlands-day or contact Christy Garrard, Executive Director, at 425-507-1110 or Christy.G@IHCouncil.org.