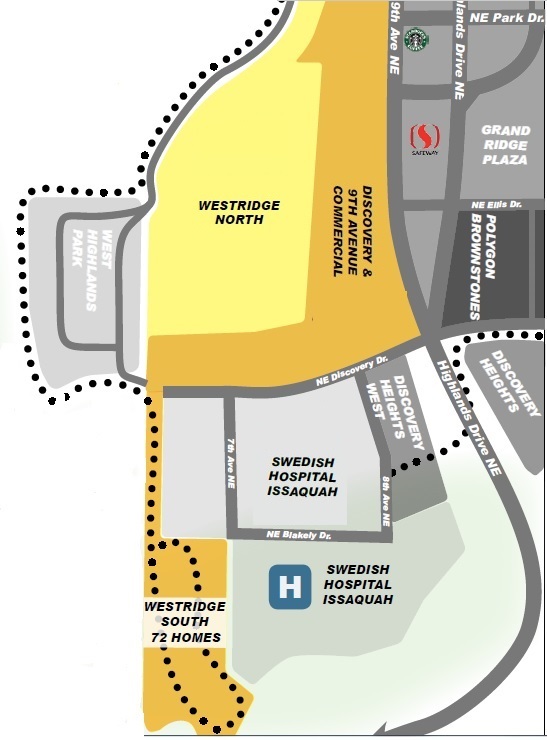 On April 6th, the City of Issaquah's Land and Shore Committee once again considered Polygon Homes' proposal to build affordable housing and transfer 100 residential [units] rights (TDRs) into Issaquah Highlands. This time, the five affordable housing options presented on March 2nd were reduced to one.
Polygon's proposal (dated April 5th): City gives Polygon Tract D to build/sell 10-15 market-rate, single family homes; Polygon agrees to build 38 for-sale, affordable housing units, plus a LEO house, on their Westridge property. Keith Niven, City of Issaquah Director of Development Services, explained the reasoning behind this. Public and council comments had showed a preference for affordable housing to be located nearer the commercial and transportation hubs of Issaquah Highlands. Under this proposal, this is how the housing would be distributed:
365 single and multi-family attached homes in Westridge (265 are already allowed)
38 affordable housing units in Westridge
1 LEO house in Westridge
10-15 market-rate single family homes on Tract D (up to 50 units are allowed)
414-419 Residences (315 are currently allowed)
Several people from the audience provided comments on April 6th. SueAnn Alexander, a Forest Ridge resident and an owner of a "fine Polygon home" was the only Issaquah Highlands resident providing testimony (an opportunity available at all Council meetings, including committee meetings). She shared her research on traffic, the City's growth plans and affordable housing. Citing Zillow's mortgage affordability calculator, Alexander found that someone earning $60K ("which is more than our teachers earn") could only afford a $195K house. Issaquah Highlands' standards for affordable housing are calibrated to 80, 100 and 120% of median income, a range that starts at $65K/year.
"What's debatable is if the price point that they would sell [the affordable housing units] would actually be affordable for the citizens they are claiming to be built for," Alexander concluded.
Under the Issaquah Highlands Development Agreement (DA) (scheduled to be terminated December 2017), City Council must approve TDRs into Issaquah Highlands. If the council denies Polygon's proposal, and Issaquah's TDR policies remain the same, Polygon could simply transfer the 100 units into Issaquah Highlands after the DA terminates in 2018. After Nick Abdelnour of Polygon Homes explained this is an alternative they "don't want to pursue."
The discussion continues at the full City Council meeting on Monday, April 17 at 7pm, with a public hearing. Comments are limited to 5 minutes. The City Council may or may not follow with their own comments. The bulk of the discussion will occur at the next Land and Shore Committee meeting on Thursday, May 4th.
For more information, go to http://www.ci.issaquah.wa.us
To view videos of past meetings, got to Your Government / Meetings / ICTV
To read upcoming meeting agendas/packets, and to access City Council document archives, go to Your Government / City Council
Or see an overview of Development in the Highlands