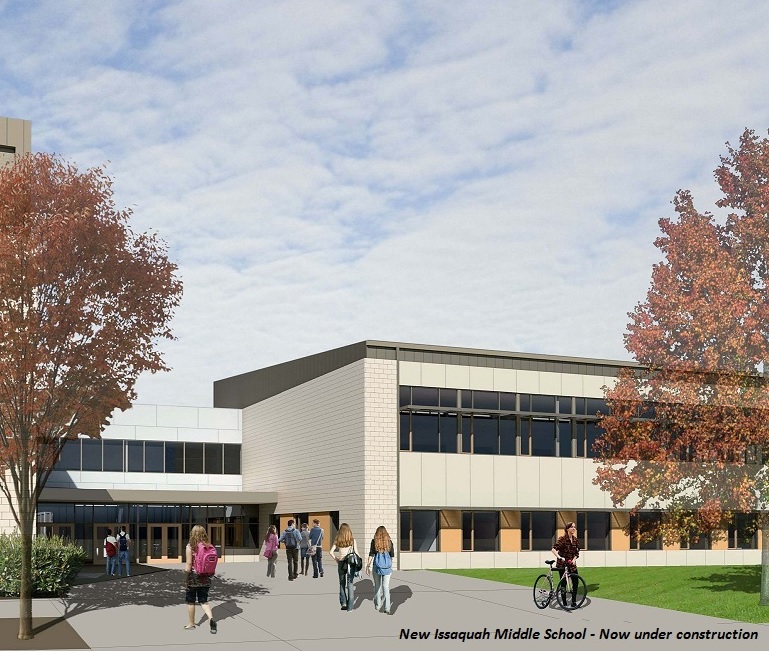 By Lisa Callan, Issaquah School Board Director, District #4, Issaquah Highlands Resident
Hello friends and neighbors. The new school year is underway and full of exciting and important business in the Issaquah School District (ISD). Several construction projects are underway, including the reconstruction of Sunny Hills Elementary and the rebuild and relocation of Issaquah Middle School (IMS). Both projects are on track to welcome students in fall 2016. Students at Clark Elementary will remain at their current location awaiting the renovation of the old IMS campus, which will become their new home in fall 2017.  For a full update on all the construction projects happening in the District visit http://www.issaquah.wednet.edu/district/departments/CapProjects.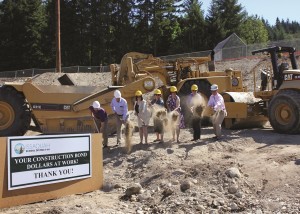 Middle School Groundbreaking Event. From Left to Right: IMS Principal Seth Adams, Issaquah Mayor Fred Butler, School Board Director Marnie Maraldo, School Board President Anne Moore, School Board Director Suzanne Weaver, Superintendent Ron Thiele, and the 2015 "King" of Issaquah Ed Pingul.
Managing student enrollment growth and determining the need to increase capacity and build new schools is on the agenda for the school board this fall. The amount of new construction in our region is visible to anyone driving around our district. With it, enrollment projections have increased. The conservative estimate for student growth is 350 to 400 new students per year. At this rate, we will outgrow our current facilities within five years. One might say, "Let's build schools before that happens." Great! However, there's much to be accomplished to make it so. Besides acquiring land, developing plans, getting permits, and starting construction, we need to secure the funding.
Washington State pays little to nothing for construction of new schools. Instead, it grants school districts authority to ask local taxpayers to foot the bill through bonds. School Construction Bond packages are voted on by residents of the district and, by law, must receive a supermajority vote of 60% to pass. By voting yes, a resident agrees to the tax liability defined in the bond package. It is a huge deal to ask you to fund the construction of new schools; we want to get it right. The Issaquah School Board and District are doing our due diligence with thoughtful consideration of all the parameters before asking voters for money. Keeping a consistent tax rate for our taxpayers is a top priority.
Last spring, the District convened a bond feasibility committee comprised of parents, staff, community, and student representatives to study our needs. This committee voted unanimously in favor of a school bond construction package to build a new high school, a new middle school, two new elementary schools, and to expand or rebuild some existing schools to support growth needs. Superintendent Ron Thiele took the committee's platform, then developed and presented his recommendation to the school board for a $533.5 million dollar bond package. This package would keep tax rates consistent with current levels through 2020 lowering gradually from there. The school board is reviewing the proposal and will have final say in whether a bond package will go before voters in 2016 and if so, for what amount. For full details of the Superintendent's recommendation to the school board, the feasibility committee's proposed construction project list or the projected tax rates for the proposed package visit http://www.issaquah.wednet.edu/2016-school-bond-feasibility.
This fall and during the next legislative session the school board will meet with our legislators to discuss funding to reduce class size and how levy funding will play into teacher and staff compensation paid by the state. These are two big issues still unresolved from the last legislative session and the McCleary lawsuit.
A major initiative for ISD this year is implementing a district-wide K-8 Positive Behavior Social Emotional Support (PBSES) program. This includes adding half time student support coaches at each of our elementary and middle schools, providing professional development for teachers, and tools to nurture social, emotional, and behavioral skills. The program also provides positive intervention strategies and resources for students needing extra help outside the classroom for behavior and social-emotional support. We will also discuss the Healthy Youth Survey results, homework and grading practices, smarter balance testing outcomes, and school start and end times.
Finally, much energy this year will focus on planning for the new choice high school scheduled to open fall 2016. There is much excitement in being able to offer this new choice for students who are looking for a nontraditional high school approach to prepare for their future success.
If you have questions or input on any of these topics or others, don't hesitate to contact me. I'm happy to engage in the important business of making sure all our kids matter and are given the best opportunity to succeed. You can reach me at callanl@issaquah.wednet.edu.