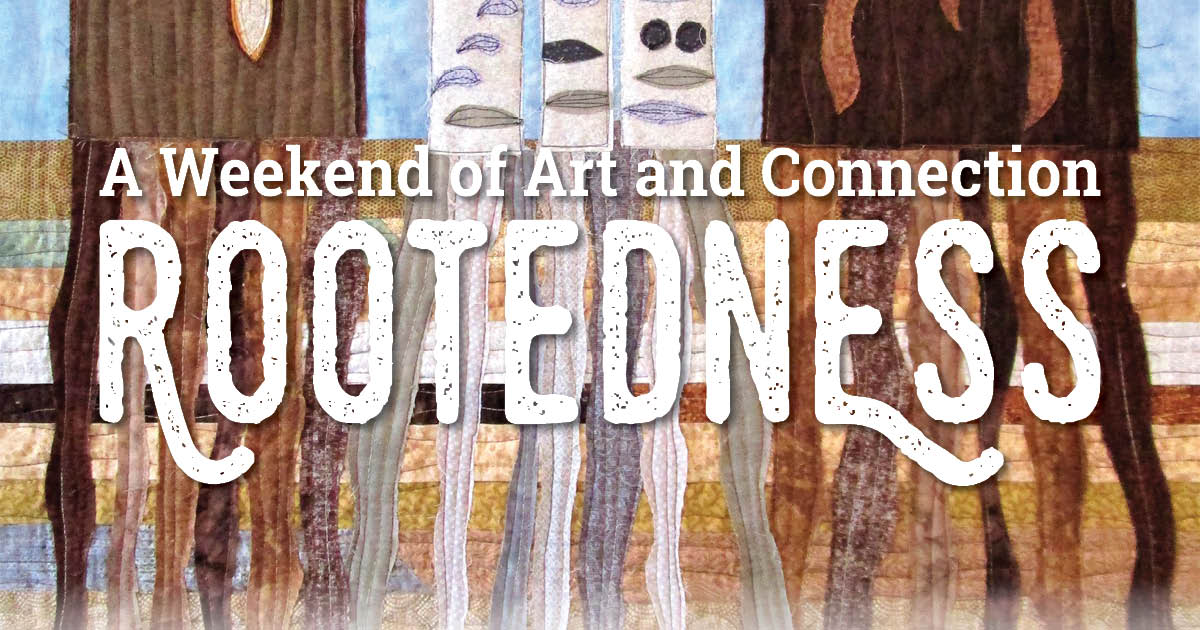 A Weekend of Art and Connection
In the March 2020 issue of Connections, we explore "rootedness" and what it means in our lives. Janice King, local artist behind the upcoming "Rootedness" exhibition in Blakely Hall, will combine art and participation to create "rootedness." When talking about her exhibition in Issaquah Highlands, she explains the project as "a way to encourage people to think about the meaning of being rooted in the places where life takes you. I want to encourage everyone to develop a sense of rootedness through ongoing, active awareness and exploration. This can also deepen the sense of rootedness for a family when you explore together." [Read more about Janice King's explanation of "Rootedness" here]
Issaquah Highlands was designed to foster a sense of belonging in the physical spaces where we live, work, and play. Neighborhoods are designed around parks or other structures that encourage us to know our neighbors. Plazas in our commercial areas encourage people to connect. We know from community survey data people feel a sense of belonging when they see their neighbors, whether it is in a neighborhood park, at the local store, or at a block party.
In addition to infrastructure that inspires a sense of belonging, Issaquah Highlands is home to organizations that cultivate a sense of belonging in our daily lives. Highlands Council's mission is to build community in Issaquah Highlands and to foster a caring community, both essential to a sense of belonging and that feeling of rootedness. Blakely Hall provides a shared place for us to belong, to gather and share events and activities.
See below for the full schedule of "Rootedness" events in Issaquah Highlands. We hope you will stop by Blakely Hall to experience the joy of creating art and develop a deeper sense of belonging to Issaquah Highlands, a skill you can take anywhere.
Cultural Conversations: Rootedness
Thursday, April 2, 7 p.m.
Blakely Hall
Cultural Conversations is a safe space for community connection that inspires new friendships, awareness of diverse cultures, and common bonds. We invite all members of the Issaquah community to join artist Janice King for a discussion about what makes us feel a sense of belonging, or "rootedness" to a place, and for a preview of the "Rootedness" gallery exhibition. Light refreshments will be served. Click here for more information >> 
Open Art Session: "Rootedness"
Friday, April 3, 9 a.m.-3 p.m.
Blakely Hall
Stop by Blakely Hall to see artist Janice King at work on her art piece and contribute to a community-created quilt about rootedness! [Why Quilts? Learn More] All ages welcome and supplies will be provided. Click here for more information >>
Guided Art Exploration Walk
Saturday, April 4, 10 a.m.
Meet at Blakely Hall
Join artist Janice King and resident Nina Milligan for a two-mile walk to learn about the Issaquah Highlands story and discover everyday images that can create a better sense of understanding and connection for a place. This walk is designed for adults and children ages 12 and up – space is limited so pre-registration is required. Sign up here >>
Art in Action: Open House & Activities
Saturday, April 4, 1-3 p.m.
Blakely Hall
Join us for an afternoon of art and activities for all ages! See artists in action and ask questions as they work, watch demos, and participate in activities provided by the Issaquah/Sammamish Urban Sketchers group and the artists with works on display at Blakely Hall. Click here for more information >>
"Rootedness" Gallery Reception & Artist Talks
Saturday, April 4, 3-5 p.m.
Blakely Hall
View the "Rootedness" gallery exhibition and meet the participating artists. Artists will talk about the inspiration, meanings, and techniques in their works. Refreshments will be provided. Click here for more information >>
"Rootedness" Gallery Exhibition
Thursday, April 2 – Mid-June
Blakely Hall
How do you create a sense of being rooted in a place, especially one that is new and unfamiliar? How can you actively explore a place to find connection and meaning for your life there? Seven local artists are coming together to answer these questions through their art, which will be displayed as part of the Blakely Hall exhibition, "Rootedness: Art-Making to Deepen a Sense of Place." Artists Gail Baker, Britt Greenland, Ekta Gupta, Janice King, Anna Macrae, Carol Ross, and Ann Elizabeth Scott are contributing to the exhibition which will hang in Blakely Hall from April 2 through mid-June. All are invited to view the gallery during Blakely Hall business hours.
As published in March 2020 Connections >>
Programming coordinated by Lindsey Pinkston, Highands Council Community Program Manager.