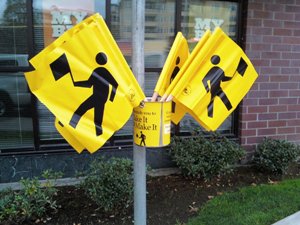 By Nina Milligan, Highlands Council Communication Manager
Spurred on by impatient residents at a community meeting in January, the City of Issaquah scheduled responses to traffic safety complaints and observations. Referred to by the City as Traffic Calming measures, this list of "next steps" was shared with Highlands Council and the Issaquah Highlands Community Association (IHCA).
First steps were implemented In January, with Highlands Council and the IHCA, in partnership with the City of Issaquah, launching a driver and pedestrian safety campaign. Referred to as "Drive with care, walk aware" this campaign will continue into 2018 focusing on education and social influence.
The City's "Next Steps" directly respond to a list compiled at the January meeting and a meeting conducted on traffic safety last July. While some steps take time to implement, other measures can be ramped up in the short term. They include:
Pavement markings (speed limit and directional signing) temporary markings were installed in December 2017 (permanent will be installed by May 2018)
Install pedestrian flags at crosswalks on Park Drive at Grand Ridge Elementary and Grand Ridge Plaza (coming soon, in process now)
Replace shrubs with shorter landscaping around crosswalks (coming soon, in process now)
Increase enforcement of parking laws for safety (now in force)
Restrict some parking adjacent to crosswalks to increase sight lines (May 2018)
Remove "Right on Red" with "NO TURN ON RED" Federal and Park Drive (May 2018)
Install additional signage at 10th and Highlands Drive "NO TURN ON RED" (May 2018)
Remove rumble strip on Federal curve (as it confuses peds, thinking it's a crossing) (May 2018)
Add no parking educational signs around fire hydrants, disabled parking (May 2018)
Install three portable, digital radar speed signs for rotating use (May 2108)
Reconfigure merge on eastbound Park Drive further back from crosswalk (May 2018)
(Please note: Many of these projects are weather dependent.)
The IHCA is taking the initiative on the pedestrian flags and landscaping around crosswalks. They also will be looking into street tree pruning to prevent blocking street lights, as well as guiding the city about parking restrictions at mailbox stations on 24th Ave NE.
Studies and further analysis:
City walk-about with residents in trouble areas (March 2018)
Consider reconfiguring parking at the school on College Drive (May 2018)
Return to 24th and 25th Avenues to collect driving data to evaluate any changes (May 2018)
Open "Peak Democracy," a web-based tool to gather community input (Feb 14, 2018)
Traffic concerns first came to a head last summer when residents on 24th and 25th Avenues NE reached out to the City of Issaquah and the Issaquah-Sammamish Reporter to voice their fears that speeding drivers would eventually cause a devastating accident. The City responded initially by gathering data on driving patterns on the two streets, south of Park Drive NE. The City hosted a community meeting in July 2017 at Blakely Hall to discuss the findings.
The City opened the meeting on January 17th with background information about what transpired since last summer. Then the meeting transitioned to the engineering side of traffic safety. John Mortenson, Senior Engineer with the City of Issaquah explained, "As part of the partnership, one of the things we wanted to find was some easy and fairly economical things we could do to improve traffic [safety]." Mortenson described the speed limit and directional pavement markings the City put down in December. These will be repainted in the Spring with a more durable material.
Kurt Seemann, Issaquah's Transportation Manager, followed up with the City's intended next steps, which have been formalized in the aforementioned list shared with Highlands Council and the IHCA. He anticipated complaints from the audience by prefacing, "We are engineers. We are very intentional and deliberate.  And careful about what we do. We don't take this lightly. We might be slower than what some people would like, but at the end of the day we are focused on doing the right thing, doing the safe thing."
To make sure you receive updates on this and other important matters, like us on Facebook, read Connections news, or read our weekly e-letter.
When you have safety concerns, contact the City directly. You may use Report a Concern on the City website. When a vehicle is parked in a no parking zone including disabled parking stalls, report it to the Issaquah Police Department by calling the non-emergency line: 425-837-3200. The City is also setting up new input tool for online messaging called Peak Democracy (online February 14th). In addition, Mayor Mary Lou Pauly (Mayor@issaquahwa.gov) and Public Works Engineering Director Sheldon Lynne (PWE@issaquahwa.gov) also welcome your concerns via email.