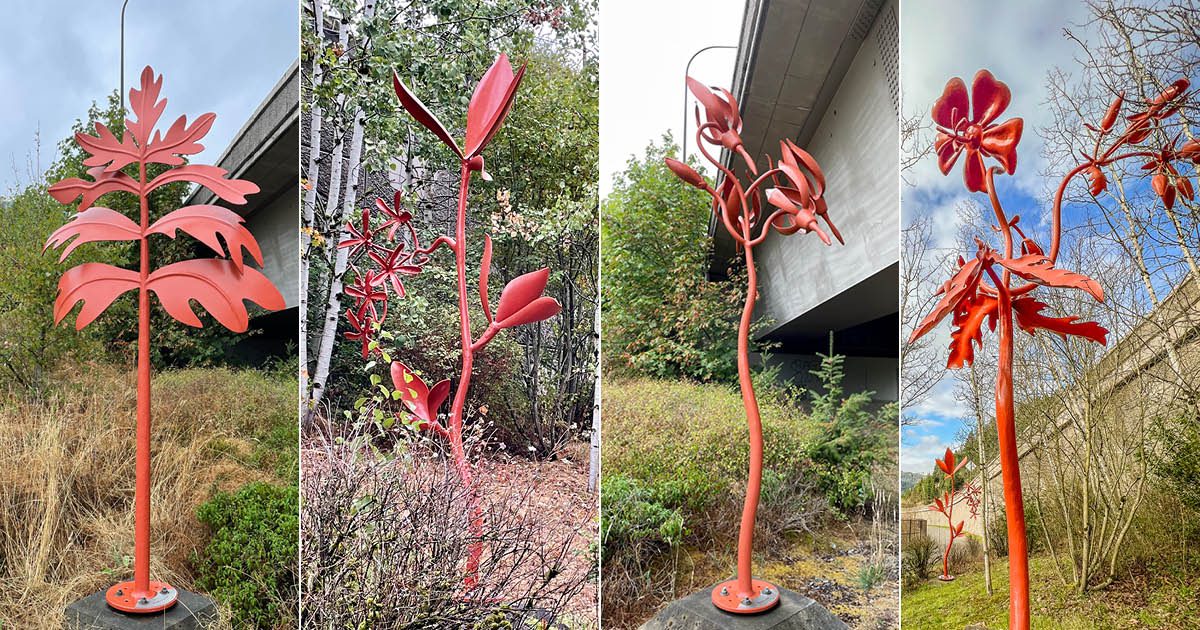 In 2001, when Sound Transit selected Nick Lyle and me to be the artists on the Sunset/I-90 project, the city of Issaquah was small, quaint, and rural with a few blocks of homes, one health food store, a small fishery, a funeral parlor, and a historic main street. We did not receive a proposed artwork site; the construction project was over 1.5 miles long. Our work is always site-specific; this project challenged us to find meaning in a body of work with a theme.
For our research, we hiked Tiger Mountain and the Tradition Plateau trails. We found the plants in this Northern Cascade woodland interesting and beautiful. We felt a kinship with understory plants occurring in this imposing landscape of tall conifers and iconic mountains and decided to create oversized portraits of several species of these plants and place them along the proposed hiking/biking trail. They would act as signage for a personal journey along the trail. We also wished for some pieces to be seen from the road by vehicles, announcing the nearby trail. Perhaps when walking in the woods, people would notice the plant life that carpeted the ground.
At that time, we had several helpers in our busy studio and completed the eight large sculptures ahead of the Washington Department of Transportation's schedule. In 2002, we arranged to exhibit the work inside the beautiful space of Union Station in Seattle. Later, we stored it at Sound Transit headquarters until the completion of the road construction portion of the project. A year later, we determined which pieces would go where along the trail and highway. At this point, these large sculptures had personalities that helped determine their locations; they had taken on a life of their own and now would become integrated with this newly built environment.
Two decades later, the extensive planting along the trail and highway has filled in, and the sculptures have integrated with their surroundings and been repainted. The tough environment of road traffic and weather greatly impacts those more exposed to the highway. The extensive development of housing and commerce has changed the small-town Issaquah that we first encountered years ago. It is good to know the growing Issaquah Highlands community enjoys these sculptures and that they are everyday characters in this environment.
As artists, we are infatuated with the beautiful life forms on this planet and use their images to make our sculptures. There is a cycle of nurturing that occurs when we focus on plants, study them, and live with them. Our public artworks interact with both rural and urban settings. Public art adds texture to the built environment. Public art can play a big role in place-making, creating a gathering space or a place for relaxation and tranquility. We need places to decompress from daily stresses and nurture our sense of wonder.
We live on Whidbey Island in the woods, where we built our home and studio. We have a large metal fabrication shop with an adjoining forge for hot metalwork. There is also a painting studio for hand-finishing our sculptures. We have been working in forged steel for more than 30 years. We established our business partnership in 1992 and have created numerous public and private commissions in the U.S. We are working on several commissions in 2022.
Pictured (left to right): "Waterleaf," "Oso Plum," "Shooting Star," and "Wild Geranium." 
Jean Whitesavage is an artist and co-creator of the "Understory" collection of artworks. See more photos of "Understory" on Whitesavage and Lyle's website. 
As published in Spring 2022 Connections