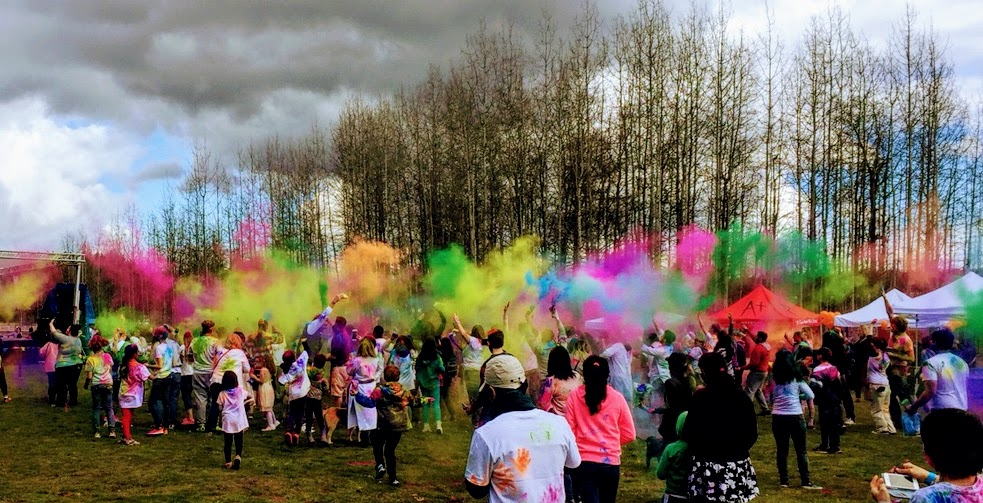 by Prachi Taunk, an 8th grader at PCMS and life-long resident of Issaquah Highlands
Between vibrant bursts of color, a group of dhol (a traditional wooden drum played in India) players dance around as people spray each other with colored water while children run around, chasing and throwing powder colored red, yellow, blue and green at each other. This scene depicts Holi, the Indian festival of colors. Holi is usually celebrated in March and signifies the arrival of Spring, as well as the triumph of good over evil.
Holi, in India, is a two-day celebration. The first day is Holika Dahan. Bonfires are lit and prayers are offered to the God of Fire in thanks for burning away our inner negativity and bringing out the colors of positivity in our lives. People gather around the fire to sing, dance, and spread joy. It is a day to strengthen the bonds of love and share happiness.
The next day of the festival is Rangwali Holi, the color explosion! On this day, kids and adults come out of their houses and play with gulal (non-toxic herbal colors). Kids play with pichkaris (water guns) and water balloons. People exchange Indian sweets, such as Thandai, Gujiya, Ladoo, Burfi, and Imarti. People also dance to popular folk music. This colorful festival also celebrates the love of Lord Krishna and Radha. It is celebrated in a grand manner in the cities of Mathura and Vrindavan. These two cities are closely associated with Lord Krishna.
Today in America and all across the globe, Holi is an event that draws tens of thousands of people to celebrate with a day of music, dance, feasting, and enthusiastic throwing of colors, or powdered dyes, upon all who are bold or fun-loving enough, to participate.
It is celebrated with great pomp and show at multiple venues in Seattle. According to the Hindu calendar, this year Holi is celebrated on the 20th and 21st. In Issaquah Highlands, Holi will be celebrated on Sunday, March 17, from 3 to 6 PM at Blakely Hall by playing a musical game called Antakshari. Another favorite local event (called 'Festival of Colors') will be at Marymoor Park in Redmond on Saturday, March 23 from 12:00pm – 5:00pm. At this event, the use of herbal colors (available for purchase on location) is permitted.
Holi-Eastside Friends and Family put on a celebration at Lake Sammamish State Park on Saturday, March 23, 11:00am – 3:00pm.
Holi is a very special festival for me. On this day, my mom and I bake Indian desserts. My family and I play with colors and have fun with friends. I enjoy this holiday as it is a great opportunity for me to spend time and make fun memories with my family.
As published in Connections News, March 2019
Prachi with her mom and brother at last year's Holi celebration at Marymoor Park in Redmond, about a 20 minute drive from Issaquah Highlands.
I enjoy making memories with my family at local Holi celebrations.