A Fresh Look for Issaquah Highlands is Born
As published in Winter 2022 Connections
Issaquah Highlands has more than a new year to celebrate this January; we're celebrating the launch of a new generation of our community's brand identity. After more than a year of intense efforts by a hardworking team of community volunteers, staff, and marketing professionals, I'm excited to reveal the new Issaquah Highlands logo and the story of how this new concept was born.
Why Rebrand Now?
In the early 90s, Issaquah Highlands' master developer Port Blakely purchased 2,200 acres of land in the Cascade Foothills with a vision to build a unique urban village that would be a new standard of master-planned community development. This new community would be deliberately different, following guiding principles related to sustainability, diversity, walkability, and economic vitality. More than 30 years later, Issaquah Highlands is an internationally recognized, Built Green™ community and the largest master-planned community in Washington.
With more than 4,000 homes and 12,000 residents, Issaquah Highlands has fulfilled Port Blakely's vision, and the community continues to grow. In 2020, the Issaquah Highlands Community Fund (IHCF) joined the Issaquah Highlands Community Association (IHCA), Highlands Fiber Network (HFN), and Highlands Council as the fourth community organization. A community shuttle program is in process.
The IHCF's launch and the pending shuttle program created an opportunity to reexamine the original Issaquah Highlands branding – more than 20 years old – including the logo and tagline, to see if it still met the needs of our growing community.
The Rebranding Process
Port Blakely deemed Highlands Council responsible for managing and protecting the Issaquah Highlands brand and trademarks. In Fall 2020, Highlands Council created a branding committee composed of community staff, leaders, and stakeholders. After evaluation, the committee decided the current branding no longer effectively portrayed Issaquah Highlands as a modern leader in community development. Issaquah Highlands needed a new brand identity to better reflect our high quality of living and regional status as a special place to live, work, and play.
In addition, the branding committee recognized the ongoing challenges Issaquah Highlands residents had differentiating between the community organizations and identifying who does what. To add to the confusion, each organization had a unique logo that did not always align with the primary community brand. The committee determined residents did not need to thoroughly understand these differences to thrive in Issaquah Highlands. Ultimately, the committee would like to unite organizations under one community logo to deepen community pride and help avoid brand confusion, like how different municipal departments unite under one city brand.
In Fall 2020, the branding committee hired Outmark, an Issaquah Highlands-based creative agency, to lead the community rebranding project. Outmark is uniquely suited for this project; the Outmark office is located in Ashland Park, owner Patrick Byers is a 20-year resident who also lives in Ashland Park, and several employees live in Issaquah Highlands or are long-time Issaquah residents. When taken with their impressive portfolio of brand work, Outmark's hyper-local perspective made them an obvious partner.
Highlands Council funded the rebranding project partly by reallocating funding from monthly Connections (moved to quarterly in 2021) and Highlands Day (canceled in 2021 due to the pandemic). Additional funding came in from overflow budget from higher community enhancement fees from home resales. Highlands Council funded the rebranding project in addition to their work supporting other nonprofit community partners. (Learn more about Highlands Council funding.)
After more than 130 hours of committee meetings and 200 hours of research and design, Outmark delivered a high-end yet approachable brand system that is more than capable of representing and growing with the community.
Branding Committee
Kimberly Kapustein
President, Highlands Council Board of Trustees
Member, IHCF Board of Directors
Dahlia Park Resident
Zach Hall
Vice President, Highlands Council Board of Trustees
Issaquah City Councilmember
Vista Park Resident
Lisa Soboslai
Member, Highlands Council Board of Trustees
Timarron Resident
Allen Enebo
VP and Secretary, IHCF Board of Directors
Treasurer, HFN Board of Directors
Ashland Park Resident
Christy Garrard
Executive Director, Highlands Council
Chair and President, IHCF Board of Directors
Dahlia Park Resident
Katie Cannon
Marketing and Media Creator, Highlands Council
Issaquah Resident
Vicki Grunewald
Media Editor, Highlands Council
Harrison Street Resident
The new Issaquah Highlands community primary logo, designed by Outmark.
The committee wanted the new brand to reflect Issaquah Highlands' natural beauty while resonating with the community's culturally diverse population. Outmark created a unique visual brand identity that includes visual elements of Issaquah Highlands while leaving room for community interpretation.
The sloped serifs of the capital "I" and "H" harken to the foothills and mountains that surround the community, as well as the slants of rooflines. Look closely at the capital "H" to find a hidden lowercase "i" inside, with a whimsical leaf on top instead of a dot, a tip of the hat to our legacy "Living Green" tagline, and a reminder that Issaquah Highlands' natural beauty will always surprise and delight if you know where to look.
In response to the need for a modernized brand identity, Outmark created a fresh four-color palette that captures the community's vibrant natural surroundings. The new tagline, "An Urban Village," reminds us of Port Blakely's unique vision for Issaquah Highlands and emboldens us to stay true to our founding values as our community ages and grows.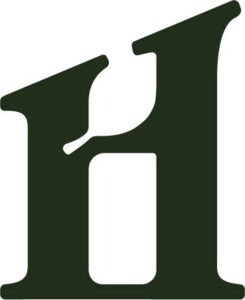 The new Issaquah Highlands community icon, designed by Outmark.
Plus: A More User-Friendly Website
This year, in parallel to the branding committee's work, Highlands Council took on redesigning the official community website, IssaquahHighlands.com, to serve as a more user-friendly resource. According to Highlands Council's 2021 Annual Community Survey, 23% of participants said the website required too much effort to use, while 45% said it required at least some effort. Participants commented the website needed improved navigation and organization, that it was hard to find what they were looking for at times, and users did not know who to contact to report different issues.
After conducting industry research and several rounds of usability testing, Highlands Council learned the website's distribution of content by community organizations caused a major barrier to overall website usability. Website users do not think about our community's organizational structure when visiting the site; they just want to find the information they're looking for quickly and they get frustrated when they can't. By removing that barrier, usability test participants found information faster and with more positive feedback on the experience.
The new IssaquahHighlands.com, developed by Outmark and launched in late December, is a complete website redesign, from redefined content organization and hierarchy to updated functionality and styling. Get answers to questions faster and more intuitively with more user-friendly navigation and new valuable features, like a single contact form to report community issues and concerns that will automatically forward your message to the appropriate staff – no prior knowledge of community organizations required.
Let's Celebrate!
We are excited to share our updated brand and celebrate a new generation of Issaquah Highlands history with you. Join the celebration of this historic moment and show your community pride with new Issaquah Highlands-branded swag.
Stop by the Blakely Hall Open House on Jan. 30 to celebrate the community's new look. Enjoy treats and free swag (see our online event calendar for details).
Show off your community pride in your own way by visiting the new Issaquah Highlands online brand store (CafePress.com/IssaquahHighlands) for a variety of fun branded items, including apparel for the whole family. Purchases benefit the IHCF scholarship program.
Kimberly Kapustein is the Highlands Council Board of Trustees president, a member of the IHCF Board of Directors, and a Dahlia Park resident.
Read the full article in the Winter 2022 issue of Connections.